Patriots Win Super Bowl LIII in Lowest Scoring Super Bowl Ever
By Connor Lynch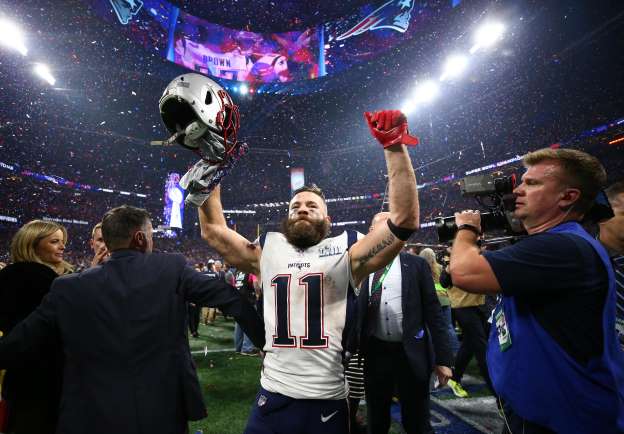 Super Bowl LIII was the lowest scoring championship game in Super Bowl history, with a combined points total of 16.
The New England Patriots prevailed over the Los Angeles Rams 13 – 3 in a tight match. Despite taking an early lead and never relinquishing it, the Patriots needed to concentrate through the whole game.
After leading 3 – 0 at halftime, New England scored the game-winning touchdown with seven minutes left.
The closest the Rams came to getting back in the game was with 4 minutes remaining, when Jared Goff released Brandin Cooks. However, Patriots defensive back Duron Harmon broke up the play on the right corner of the end zone.
Want $250 to bet on NFL futures?
Sign up here!
The Rams' prolific offense was well and truly shut down in Super Bowl LIII. As we reported, the Patriots identified stopping the Rams running backs as key to their eventual victory.
That plan came to fruition on the day, as the Rams failed to execute a single play inside the Patriots' 26 yard line.
New England's winning experience and professionalism told in the lowest scoring game in Super Bowl history. The previous record was set by Super Bowl VII between the Miami Dolphins and the Washington Redskins.
The Dolphins beat the Redskins 14 – 7 on that day, all the way back in 1973. Before the Super Bowl era, the lowest NFL title game was the 1948 NFL championship.
That game still holds the record for the lowest scoring title match with a score of 7 – 0 to the Philadelphia Eagles over the Chicago Cardinals.
Last year's Super Bowl between the Patriots and the Eagles had a combined score of 74 points. The one before that between the Patriots and the Falcons had a combined score of 62.
This season, the Rams had only scored single digits only once in a 15 – 6 loss to the Chicago Bears.
You would have to think that keeping the game tight was a deliberate tactic by the relentless New England Patriots. It worked out for them, and they are now tied with the Pittsburgh Steelers for the most Super Bowl wins, with 6.