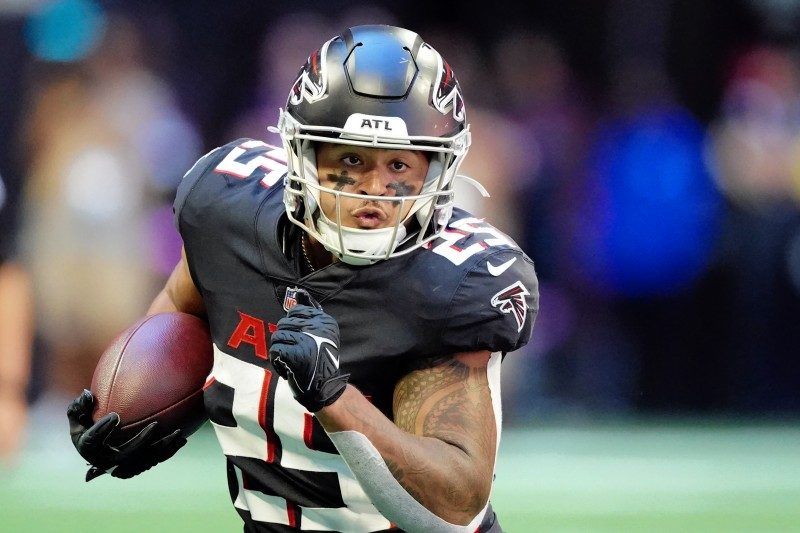 Tyler Allgeier Unfazed By Bijan Robinson Pick
Atlanta Falcons running back Tyler Allgeier says he's learning how to be an all-round running back from Bijan Robinson.
Bijan Robinson was drafted with the No.8 overall pick – the highest pick used for a running back since Saquon Barkley in 2018.
Tyler Allgeier produced 1,035 rushing yards in his rookie season, the first player to do so since 2016. The Falcons have drafted another talented back now, changing his presumed trajectory.
Want $250 to bet on NFL futures?
"With him coming in — No. 8, really great pick — him coming in being that all-around back, out of the backfield, wherever he needs to be on the field. He always said that he's trying to learn from me, but really I'm learning from him," Allgeier said. 
"Because him being an all-around back, that's my goal. Be an all-around back. Obviously, protecting the quarterback, running the ball and then just being a threat in the backfield. I'm still striving to be that, so really having him, having us compete, it's good."
"I think the guys upstairs do things for a reason, and bringing in the right guy. It's just competition. That's the name of this game. So, competition, I'm excited for him to come in and should be fun.
"Everyone will get their chance to shine and stuff," Allgeier said. "Just excited to have the opportunity just to ball."