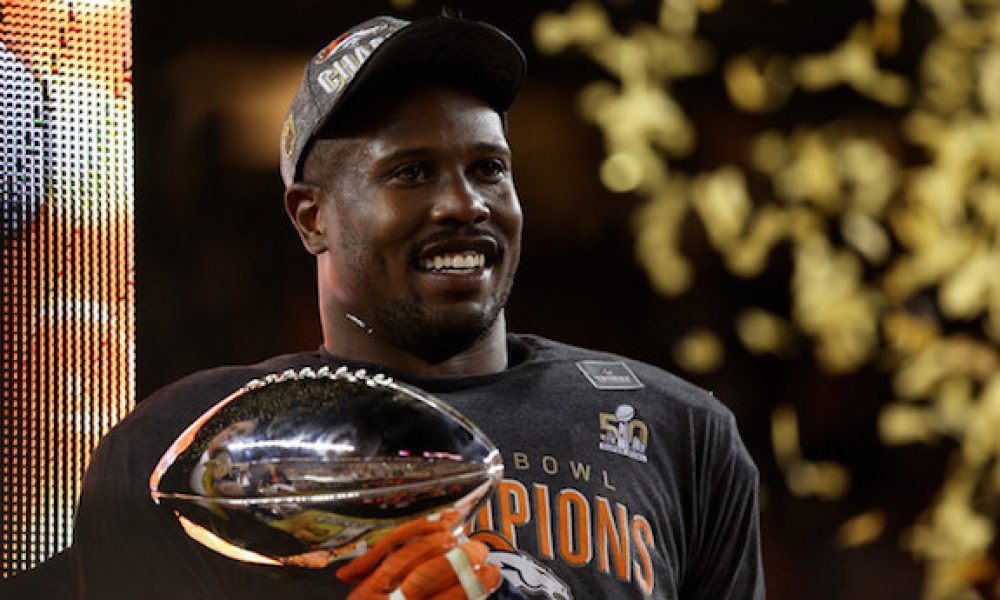 Image via Zimbio
Von Miller Looking To Emulate Longevity Of Bruce Smith
New Bills linebacker Von Miller hasn't come to Buffalo to enjoy a gentle couple of years before retiring. 
In fact, the 33 year old says he will play out the entirety of his six-year, $120 million contract. Von Miller is fresh off of his second Super Bowl win and intends on cementing himself as one of the NFL's most dominant defenders.
Von Miller is the most recent defender to win a Super Bowl MVP. As well as that, he is an eight time Pro Bowler and three time All-Pro.
Want $250 to bet on NFL futures?
There's no resting on his laurels for Miller, who prides himself on being able to keep up with his younger teammates. He'll have to work hard to continue doing that if he really does play until he's 39.
"This is a six-year deal, so I'm looking forward to playing the whole thing," Miller said.
"I'm trying to play the whole thing out. Tom Brady's done it, Bruce Smith has done it. All the guys that I look up to when it comes to longevity in careers. So I just take it one day at a time, and I'm just gonna take whatever God gives me. My intention is to play the whole thing out. I'm a real sicko when you get to know me. My mindset is different.
"I'm 33 but I honestly don't feel 33," Miller said. "I think mentally, once you start feeling old, it's just done. I've been in the league a long time and when guys start complaining about, of course you're gonna have injuries and stuff, but when guys start complaining about, man it's cold out here. Or we got practice again today. Or just little things that I just try to stay out of. I try to keep my mind positive."
"Of course, I'm getting older. But I don't feel 33 at all. The main thing is I don't look 33 at all. When I'm running out here with the guys, I make it a point to show to my teammates and earn their trust that hey, I'm 33 years old but I can run with you. I can run with anybody and I'm healthy and I take care of my body."