2019 College Football Future Odds
By Jonathan K.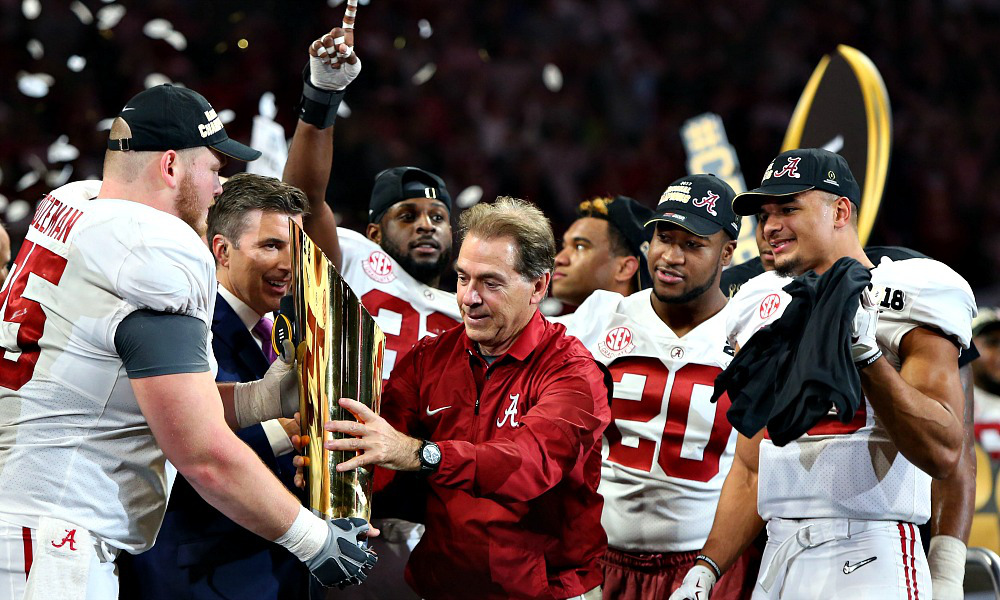 We may have just wrapped up the NCAA football championship game, but the 2019 college football future odds are up and ready to bet on.
Early future betting often offers up good prices on some teams, while powerhouses are overpriced. However, it is hard to make a case for Alabama to be overpriced.
Alabama have won five national title games in under a decade. Every other year they have either made it to the Rose Bowl or were among the teams near the top. In other words, it's no surprise to see the 2018 Champions top the 2019 college football future odds at 5/2
Clemson has the next best odds. This year's Rose Bowl runner-ups, Georgia, share the third best odds spot with Ohio State.
You can see the full college football futures below, pulled from BetOnline.
| | |
| --- | --- |
| Alabama | 5/2 |
| Clemson | 6/1 |
| Ohio State | 8/1 |
| Georgia | 8/1 |
| Michigan | 10/1 |
| Penn State | 12/1 |
| Oklahoma | 18/1 |
| Michigan State | 25/1 |
| Texas | 25/1 |
| Miami, FL. | 25/1 |
| Wisconsin | 25/1 |
| Auburn | 25/1 |
| Washington | 30/1 |
| LSU | 30/1 |
| USC | 40/1 |
| Virginia Tech | 40/1 |
| Florida State | 40/1 |
| Notre Dame | 40/1 |
| West Virginia | 40/1 |
| Stanford | 40/1 |
| Texas A&M | 50/1 |
| Florida | 60/1 |
| TCU | 60/1 |
| Oregon | 60/1 |
| Arizona | 100/1 |
| Oklahoma State | 100/1 |
| UCLA | 100/1 |
| Utah | 100/1 |
| Missouri | 100/1 |
| Mississippi State | 100/1 |
| Boise State | 100/1 |
| North Carolina State | 100/1 |
| Wake Forest | 100/1 |
| Kansas State | 100/1 |
| South Carolina | 200/1 |
| Iowa State | 200/1 |
| Northwestern | 200/1 |
| Purdue | 200/1 |
| Iowa | 200/1 |
| Nebraska | 200/1 |
| Minnesota | 200/1 |
| Washington State | 200/1 |
| Central Florida | 200/1 |
| Louisville | 200/1 |
| Colorado | 300/1 |
| Memphis | 300/1 |
| Syracuse | 300/1 |
| Georgia Tech | 500/1 |
| Pittsburgh | 500/1 |
| South Florida | 500/1 |
| Houston | 500/1 |
| Boston College | 500/1 |
| Virginia | 500/1 |
| Duke | 500/1 |
| North Carolina | 500/1 |
| Texas Tech | 500/1 |
| Arizona State | 500/1 |
| Kentucky | 500/1 |
| Vanderbilt | 500/1 |
| Tennessee | 500/1 |
| Ole Miss | 500/1 |
| Arkansas | 500/1 |
| San Diego State | 500/1 |
| Colorado State | 500/1 |
| Baylor | 500/1 |
| Indiana | 500/1 |
| Maryland | 500/1 |
| California | 500/1 |
| Florida Atlantic | 500/1 |
| BYU | 500/1 |
| Fresno State | 1000/1 |
| Kansas | 1000/1 |
| Rutgers | 1000/1 |
| Illinois | 1000/1 |
| Oregon State | 1000/1 |
| UNLV | 9999/1 |
| Appalachian State | 9999/1 |
| Nevada | 9999/1 |