Adam Thielen Gunning for Contract Extension
By Connor Lynch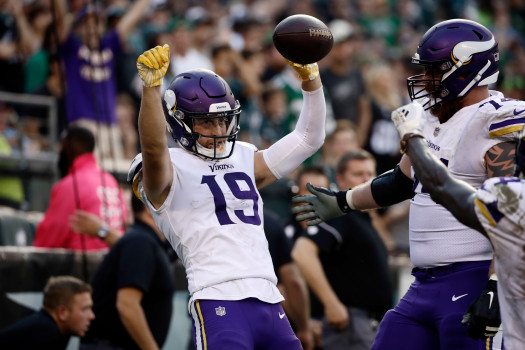 Minnesota Vikings wide receiver Adam Thielen could be about to be rewarded for a stellar 2018 NFL season.
Adam Thielen enjoyed a record breaking season full of career highs. His 113 catches, 1,373 yards and 9 touchdowns were all personal bests.
His fine performances have led many to believe that Adam Thielen is due a contract extension.
Thielen's agent, Blake Baratz, has been speaking to the media about the subject. He assured the Vikings that he and his client won't resort to the dark arts to get an extension.
Want $250 to bet on NFL futures?
Sign up here!
"Adam's not that type of person," Baratz said.
"I would never condone a player to hold out or be disruptive if it wasn't for a very valid reason, and [what's not] a valid reason, to me, is both sides working in good faith to come to a conclusion that makes sense for everybody."
Despite Baratz's assertion that everything will be all smiles and sunshine, his following remarks clearly put pressure on the Vikings to act.
"This team has a lot of really good things in place for it, and I know they want to take care of Adam and I know they want Adam there and I know they want to reward Adam," Baratz said.
"What exactly that looks like and when that happens, I can't speak to yet, but I'm cautiously optimistic that everyone will come around and do the right thing. There's not — no one's being greedy. Everyone understands the situation and it's really in their court. He has a couple of years left on his deal but he's earned a significant pay raise.
"Not to mention what he's done on the field, he might be one of the best people in the entire National Football League and represents the city and the organization and state and frankly, the entire region unbelievably. We're all hopeful that it'll get done."