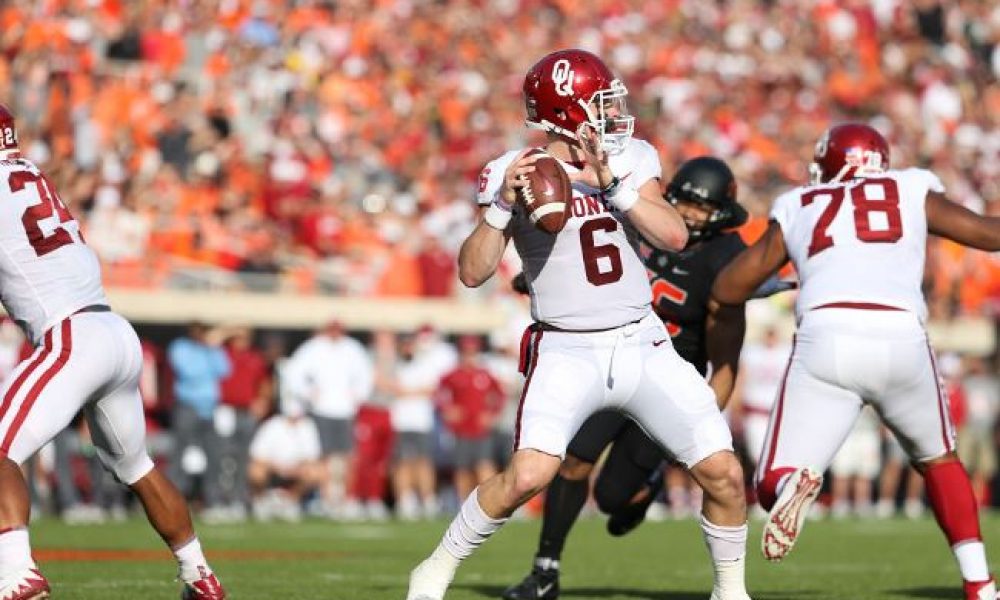 Baker Mayfield Favored to Win Heisman Trophy
As the college football regular season creeps closer to an end, teams are battling for the top spot in their respective conferences and a shot the College Football Playoff and the national championship.
On an individual level, the top players in the nation continue to play from the most coveted trophy in the country the Heisman, as the best player in college football.
For several weeks it appeared as though a running back would win the Heisman as Penn State's Saquon Barkley seemed to be distancing himself from the rest of the field. However, two straight mediocre games on his part have led to another player catching and passing Barkley.
Oklahoma Sooners quarterback Baker Mayfield is the current -175 favorite to win the Heisman Trophy. Mayfield is no stranger to the Heisman. In the last two seasons, the Sooners signal caller has finished third and fourth in the Heisman voting.
The recent struggles of Barkley have taken place just as Mayfield found his football mojo. The Oklahoma quarterback has thrown for 891 yards and 11 touchdowns in his last two games, including last week's record setting performance against in-state rivals Oklahoma State.
In that game, Mayfield threw for 598 yards and 5 touchdowns, while rushing for another in the Sooners' 62-52 win.
Some football pundits will look at the great numbers of Mayfield and say they are just a byproduct of playing in the Big 12, which is considered by many a conference that does not require teams to have defenses.
However, against teams such as Ohio State, Mayfield passed for 386 yards and three touchdowns. Against Iowa State, a team ranked in the nation's top 20 for defense, Mayfield threw for 363 yards and 3 touchdowns.
Mayfield is expected to put up huge numbers in his final three games during the regular season as he will be facing passing defenses that are currently ranked No. 56, No. 99 and No. 118 in the country.
With those opponents, Mayfield will continue to have a firm grip on the trophy and is expected to finally claim his in December.
Top Five Odds to Win 2017 Heisman Trophy
Baker Mayfield Oklahoma QB -175
Saquon Barkley Penn State RB +150
Josh Adams Notre Dame RB +800
Bryce Love Stanford RB +1000
Mason Rudolph Oklahoma State QB +2000