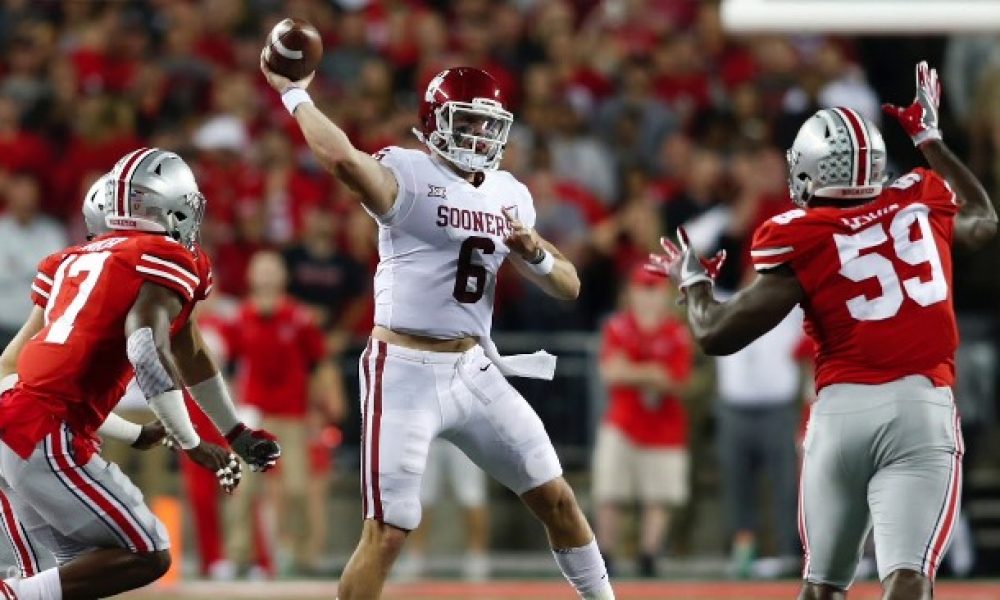 Baker Mayfield Tightens His Grip on 2017 Heisman Trophy
Less than a month remains in the 2017 college football regular season and it has become very clear who is most deserving of winning this year's Heisman Trophy as the best player in college football.
Baker Mayfield, the star quarterback for the Oklahoma Sooners has separated himself from the rest of the field for the coveted Heisman Trophy and clearly stands alone at this point.
The Sooners signal caller has produced tremendous performances each week of the season. Posting absurd numbers for passing, rushing and touchdowns, he has carried his teammates to victory.
In the Sooners last two games, Mayfield faced possibly his toughest stretch of two games of this season.
Challenges
First, the Sooners played Oklahoma State at Bedlam. Then, a top-ten TCU team with the best defense against the pass in the Big12.
However, Mayfield played with the poise of a quarterback much more mature than his age. He threw for a combined 931 yards and 8 touchdowns. He completed an impressive 66.7% of his passes during that two-game stretch.
Mayfield is No. 1 in the country in completion percentage and quarterback rating, while No. 2 in passing yards, and No. 3 in number of touchdown passes. All this despite the team beginning the season missing four of its top five receivers from last season.
Due to how Mayfield has consistently played brilliant football, he is the overwhelming favorite at -2000 to win the Heisman. This is his final collegiate season after placing third and fourth the last two seasons.
This weekend, the numbers for Mayfield should be high again as the Sooners will play the Kansas Jayhawks, which are ranked No. 199 against the pass in the nation and have given up 26 touchdowns through the air while only intercepting the ball on four occasions.
Well behind Mayfield on the futures board for the Heisman in second place at +1000 are Penn State's Saquon Barkley and Stanford's Bryce Love.
Get odds on the 2017 Heisman Trophy.