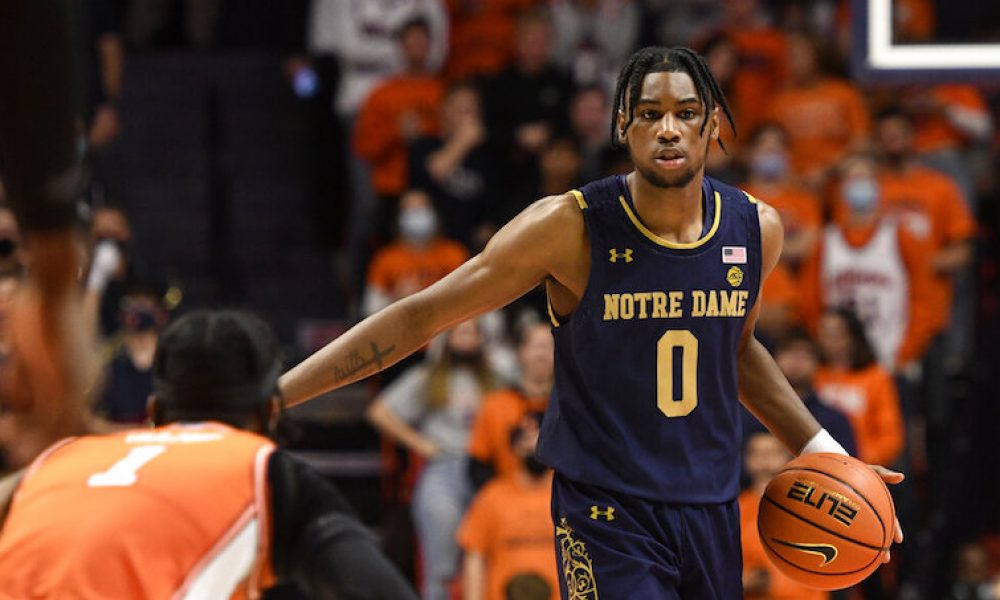 Notre Dame's Blake Wesley advances the ball during the second half of an NCAA college basketball game against Illinois, Monday, Nov. 29, 2021, in Champaign, Ill. (AP Photo/Michael Allio)
Blake Wesley Ready For NBA Draft After Being 'Slept On'
Notre Dame freshman Blake Wesley believes the NBA will  wake up to his talents when he enters the draft.
It's not a light decision for Blake Wesley to leave the Fighting Irish considering how intertwined he is with the community. 
Blake Wesley is the first player from a South Bend public school to play basketball locally for Notre Dame since 1985.
"The South Bend community means so much to me," Wesley said. "My mom is on the school board here, and it was important to help connect the city with the school."
Want $250 to bet on NBA futures?
"I plan on staying in the draft," he told ESPN on Wednesday. "I'm in a great position, I'm ready for the NBA. I'm ready to start my next journey."
Wesley averaged 14.4 points, 3.7 rebounds, 2.4 assists, and 1.3 steals in 29.3 minutes per game this season. As a result, he was named second-team All-ACC and all-rookie team.
"I had a good year," Wesley said. "Coach [Mike] Brey put a lot of confidence in me and helped prepare me for what's ahead. He pushed me every day and provided me with the freedom and spacing to show my talent."
"I was slept on my entire high school career," Wesley said. "I was blessed to have my parents by my side telling me that the rankings don't matter, being a McDonald's All American doesn't matter. If the EYBL hadn't been canceled after junior year of high school because of the pandemic, things would have looked different for me. It all worked out great in the end."