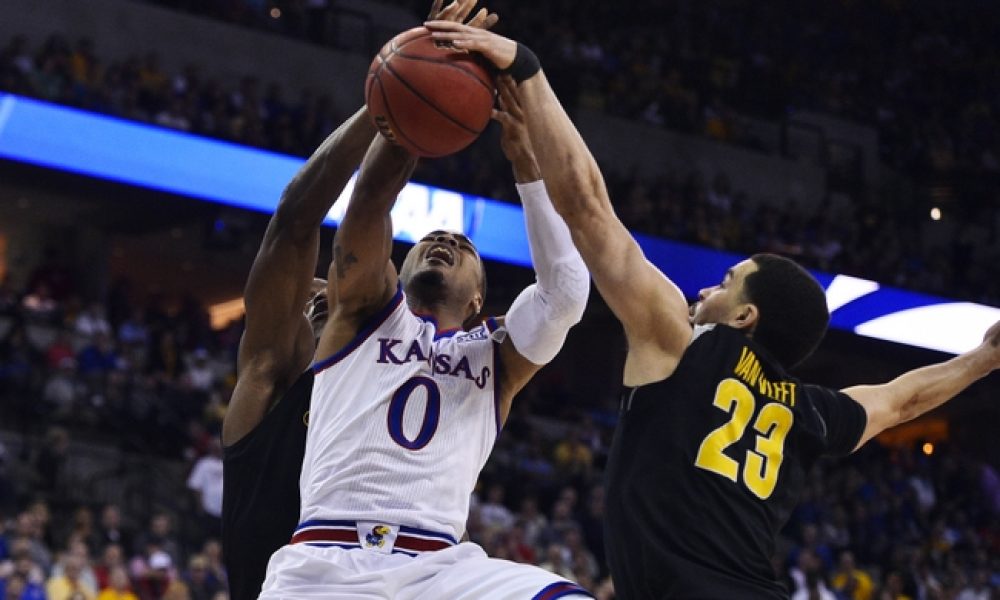 Mar 22, 2015; Omaha, NE, USA; Kansas Jayhawks guard Frank Mason III (0) has his shot blocked by Wichita State Shockers guard Fred VanVleet (23) during the second half in the third round of the 2015 NCAA Tournament at CenturyLink Center. Mandatory Credit: Jasen Vinlove-USA TODAY Sports
Committee got March Madness field correct, and more
Every year, we have to listen to pundits both local and national screaming to us about how the selection committee got the NCAA Tournament wrong.
We hear about teams that missed out that should have been in, while teams that made the field of 68 were somehow undeserving and would cast a pall on the tourney. This year, two of those teams were the Syracuse Orange and Michigan Wolverines. Both are major conference programs, yet folks had all kinds of problems with either making the field.
Michigan was a First Four team, trying to get into the first round as a No. 11 seed. Meanwhile, Syracuse was placed into the first round as a No. 10 out of the ACC. Both were thought to be one-and-done. Not the case.
Michigan would beat Tulsa before getting into a great game against the Notre Dame Fighting Irish. While the Wolverines would lose the contest, they certainly proved themselves worthy of the invitation. Meanwhile, Syracuse is in the Sweet 16 after crushing both Dayton and Middle Tennessee State. To this point, the Orange might be the most dominant team in the tournament, showcasing skill on both sides of the court.
Another example of this would be the Wichita State Shockers. Head coach Gregg Marshall had his club make it as a First Four team and watched as the Shockers dispatched the Vanderbilt Commodores. In the first round, Wichita State creamed the Arizona Wildcats, to the point that Arizona head coach Sean Miller had to change shirts at halftime from sweating so much.
Despite all the complaining, the committee once again did the job and gave us the best field of 68 teams we could possibly have under the guidelines. There are plenty of pundits out there who owe these folks an apology.
Best games of the Sweet 16
We have to start with one of the classic matchups in the No. 1 North Carolina Tar Heels taking on the No. 5 Indiana Hoosiers. Indiana was expected to lose ot the Kentucky Wildcats in the second round, but head coach Tom Crean delivered the upset.
Meanwhile, we are going to see some epic guard play in this one between Yogi Ferrell of the Hoosiers and North Caorlina's Marcus Paige. These are two of the best seniors in the country and they should give us fireworks.
Also, keep an eye on the No. 1 Kansas Jayhawks and No. 5 Maryland Terrapins. Maryland is only a fifth seed but it has some serious talent in Melo Trimble and Diamond Stone. On the other side of the court, Kansas has the best team in the country with Perry Ellis, Frank Mason and Wayne Seldon Jr. This could be one of the best games of the entire tournament.