Cutler not Expected to Need Surgery on Injured Thumb
By Jonathon Natsis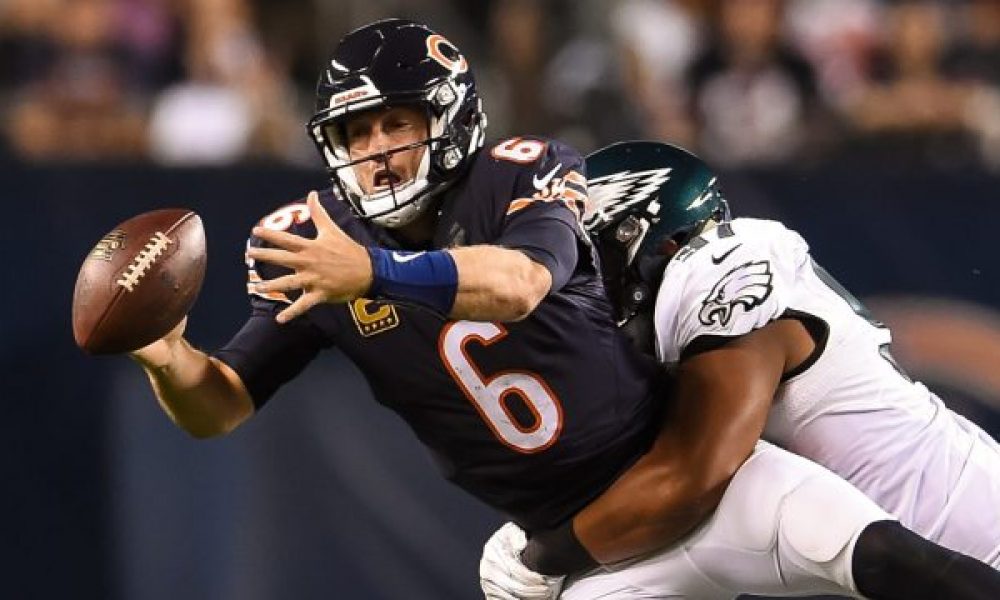 The first 24 hours after a star player's exit from a football game are rife with overreactions and misinformation. Things were no different for Chicago Bears quarterback Jay Cutler, who took himself out of Monday night's game against the Eagles with an injured thumb.
Latest reports indicate that Cutler suffered only a sprained thumb on his throwing hand and is not expected to need surgery. "To my knowledge, right now, [he does not need surgery]," head coach John Fox told reporters on Tuesday. "I'm not a doctor…but it doesn't appear like that at this point."
Be it optimism, a smokescreen, or a little bit of both, Fox was also hesitant to rule Cutler out for this week's game, a Sunday night primetime affair against the Cowboys in Dallas, which could prove a must-win contest lest the Bears lose touch with the rest of the division.
"Not really [sure if he can play this week], we'll just take it day to day," Fox continued. "Brian Hoyer stepped in and did a pretty good job. We'll evaluate that tomorrow and split up practice as need be."
Hoyer did play admittedly well in relief, and has enough experience as a starter to fill in adequately for the Bears against a vulnerable Cowboys defense this week. But Hoyer's reputation as a turnover machine proceeds him, and if Cutler is out for multiple games, it won't be long before other defensive coordinators get enough game film on him as a Bear to expose his weaknesses.
Lost in the hubbub of Cutler taking himself off the field in another nationally televised game – his "knee injury" in the 2011 NFC Championship Game being the most well-known example – was the fact that he was actually playing at his efficient best.
At 0-2, the Bears suddenly have a long way to go to catch up in the 2016 playoff race, and they won't be getting there any faster without their starting quarterback at the helm.