Dalvin Cook "Ready to Play" This Season
By Connor Lynch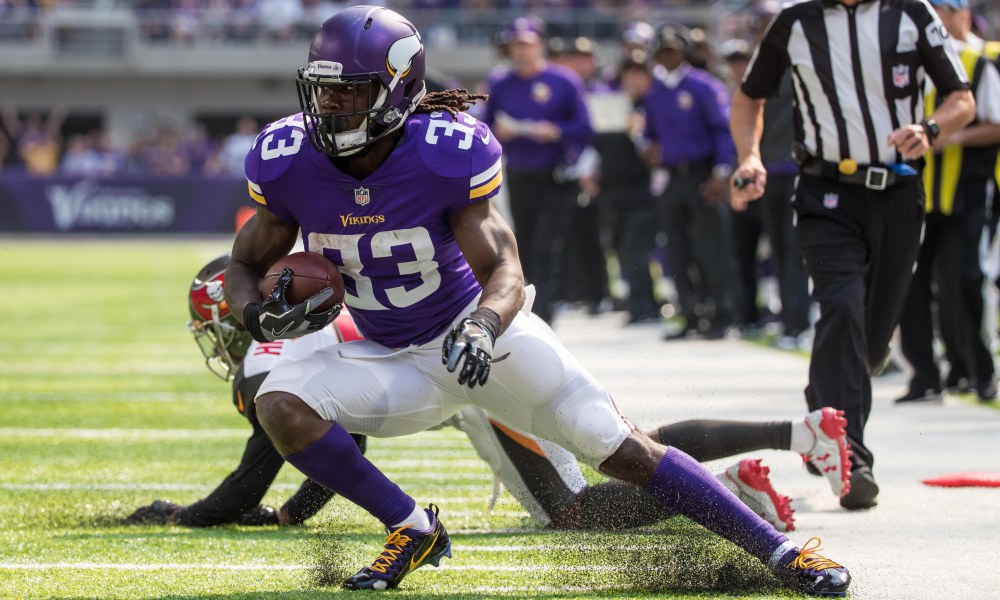 Minnesota Vikings running back Dalvin Cook has assured fans that he's back to his best following his injury.
The no. 41 overall pick in the 2017 Draft missed most of his rookie season due to a torn ACL.
It was a tough blow for Dalvin Cook who had made a roaring start to his Minnesota Vikings career.
"I'm a thousand-percent confident in what I got going," Dalvin Cook said.
"I put enough work and enough time into my craft over the time that I was out, so I'm a thousand-percent confident and I'm ready to play."
Want $250 to bet on NFL futures?
During his first three NFL games, Cook averaged 123 yards from scrimmage. That's a total of 354 yards as well as two touchdowns. His season was ended in his fourth game, but those numbers are impressive nonetheless.
Only Todd Gurley (139.5) and Le'Veon Bell (129.7) had a higher average per game over the last season.
Cook has been working with the Vikings' new offensive coordinator, John DeFilippo, and is buzzing for the season ahead.
"It's going to be something special to watch," he said. "I can't wait for it."
As well as recapturing his own form, Cook is excited about how the entire Vikings team will perform this year.
The Vikings appeared in the NFC Championship game last season. With some good upgrades, including Kirk Cousins at quarterback, there is an air of optimism around the Minnesota Camp.
"I'm very excited just for what we got going here," Cook emphasized. "It's special around here. You can just feel it in the air. And I'm just happy to be a part of it."
After coming so close last year, the Minnesota Vikings will be desperate to make the Super Bowl this time around.