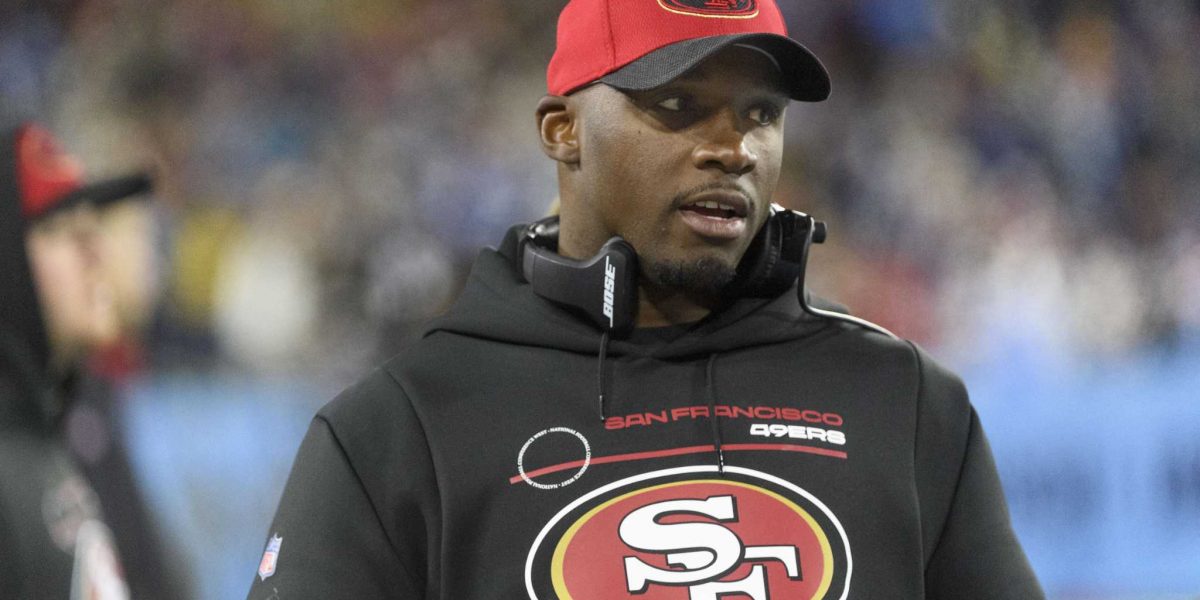 San Francisco 49ers defensive coordinator DeMeco Ryans works the sideline during an NFL football game against the Tennessee Titans, Thursday, Dec. 23, 2021, in Nashville, Tenn. (AP Photo/John Amis)
DeMeco Ryans: We Want To Establish The Run Game First
New Houston Texans coach DeMeco Ryans says their focus must be on building a great team, not just the quarterback.
DeMeco Ryans went to the Pro Bowl twice and won Defensive Rookie of the Year while playing linebacker for Houston. He's spent the last two years coordinating the 49ers defense that ranked first in points and yards allowed. 
The Texans have ranked 27th or worst on both sides of the ball and yards in the past two seasons. As well as that, they haven't won more than four games since 2019.
Want $250 to bet on the Super Bowl?
With QB Davis Mills underperforming and some draft capitol at his disposal, questions abound about a shiny new quarterback. However DeMeco Ryans isn't overly fixating on that one position.
"We understand we have one quarterback here on our roster, and we have to add more at that position," Ryans said. "We know everybody gets excited about the quarterback. The quarterback is one piece to a team. As I've seen in San Francisco, what happens when you don't have that one guy? Is the season over? Are you just booking it? No. How do you build around that quarterback. 
"Yes, we want a great quarterback. But we need a great offensive line to protect the quarterback. We need great running backs, great tight ends. We need a great defense. Great special teams. We all play together. That's the awesome part about football. It's not on one guy's shoulders to go out there and win the game for us."
"We want to play with precision." Ryans said. 
"We want to play with effort, we want to play with physicality. So, with that, we want to own the line of scrimmage. We want to establish the run game first, but we want to be balanced. We want to be able to operate with play-action pass, but we also want to be efficient. We want to have explosive playmakers who we can get the ball to. If it's not down the field, we want to be able to throw a check down and put it in the hands of an explosive playmaker and see him create."