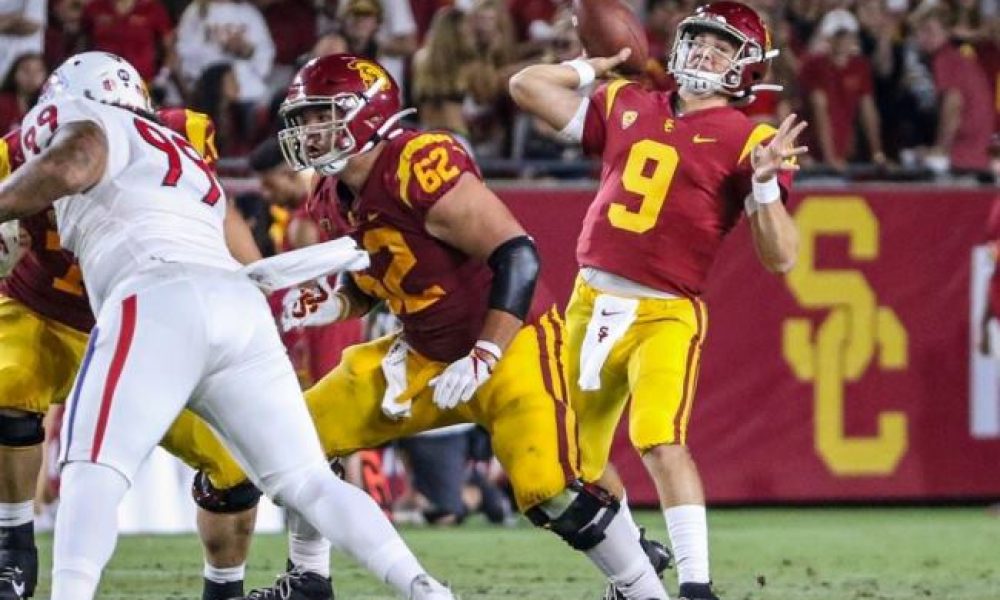 Freshman USC Quarterback Kedon Slovis Has Huge Debut
USC Trojans' fans in the student section started to chant, "We Love Slovis," during the fourth quarter of the Trojans 45-20 victory over the No. 23 ranked Stanford Cardinal.
Just seconds after the chants started, the true freshman QB Kedon Slovis threw his third touchdown pass against the Cardinal defense to put the finishing touch on the rout by USC.
Following the game, Slovis said he did not hear his fellow students chanting his name, but called it pretty cool.
The debut by Slovis as the Trojans' starter came a week after fellow quarterback JT Daniels went down with a season-ending torn ACL and could not have been any better. Slovis completed 28 of his 33 passes for 377 yards and three touchdowns, with no interceptions.
USC trailed 17-3 early but outscored the Cardinal 42-3 the rest of the way.
Slovis' 377 yards passing broke the USC record for a true freshman making the first start of his career.
Trojans offensive coordinator Graham Harrell called Slovis special and says the coaches and players have a great deal of confidence in his abilities.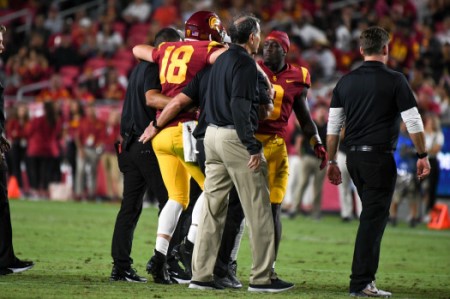 Slovis decided to play at USC during the spring following a strong, but unspectacular career in high school in Scottsdale, Arizona at Desert Mountain High were his coach was former NFL star Kurt Warner.
However, Slovis did not play high school ball with any players that would go onto play in Division I and in his senior year the team finished 3-7.
In spring practice, Slovis impressed enough to earn the backup job to Daniels ahead of Matt Fink and Jack Sears.
The debut performance as a starter for Slovis has brought life to the USC program that during the offseason generated little buzz. The Trojans are now 2-0 overall and 1-0 in Pac-12 play. Next week the Trojans visit BYU prior to returning in Week 4 to host Utah on September 20.