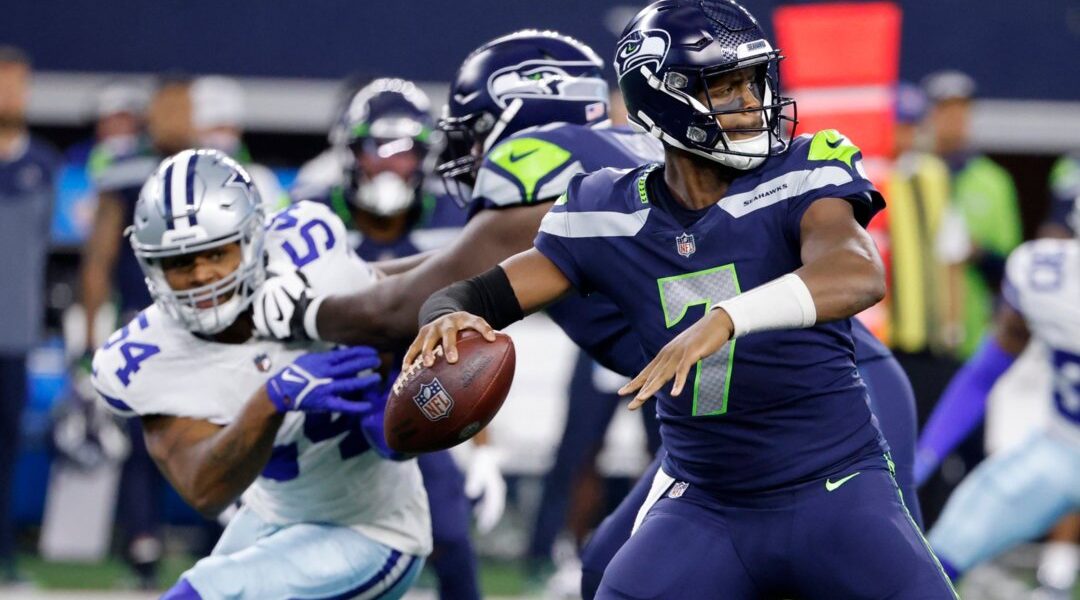 Seattle Seahawks quarterback Geno Smith (7) prepares to throw a pass under pressure from Dallas Cowboys defensive end Sam Williams (54) in the first half of a preseason NFL football game in Arlington, Texas, Friday, Aug. 26, 2022. (AP Photo/Ron Jenkins)
Geno Smith: 'People Want To Play Us Now'
Quarterback Geno Smith says the Seattle Seahawks have to accept that their opponents are prepared to face them now.
His comments came in the wake of Sunday's overtime loss to the Las Vegas Raiders, their second straight defeat.
The Seahawks played themselves into first position in the NFC West with a four game winning streak prior to Week 12. 
Geno Smith was instrumental in that run and still leads the NFL with a 72.8 completion percentage. His 107.9 passer rating is behind only Tua Tagovailoa in 2022.
Want $250 to bet on NFL Week 13?
Nothing stays a secret for long in 2022, though, and their run as the exciting, unknown young team is over. They have a weakness, and that is what happens when they can't make the turnovers their defense relies on. 
The Seahawks are 30th in yards allowed with 388.7 YPG and 28th in points allowed with 25.5. They've allowed the most rushing yards per game (188.7) since Week 9. 
When Geno Smith has an off game, as he did with an interception against the Raiders, things can disintegrate. Far from wallowing, Smith says he's going to look at himself and that his teammates need to rise to the challenge.
"Reality is that we're going from the hunter to the hunted," Smith said.
"People want to play us. As a young team, we've got to learn to be able to go out there and win those games. That's our next step in the evolution as a really young team. We got to understand the moment, capture the moments, take advantage. I feel like we had plenty of opportunities to go out there and win that game, finish it late, and we just didn't get it done.
"When I was in college, a coach told me about the difference between a finger pointer and a thumb pointer," Smith said. "I've always vowed to be a thumb pointer. I'm going to look at myself hard in the mirror, watch this film, see where I can get better and help this team win games."