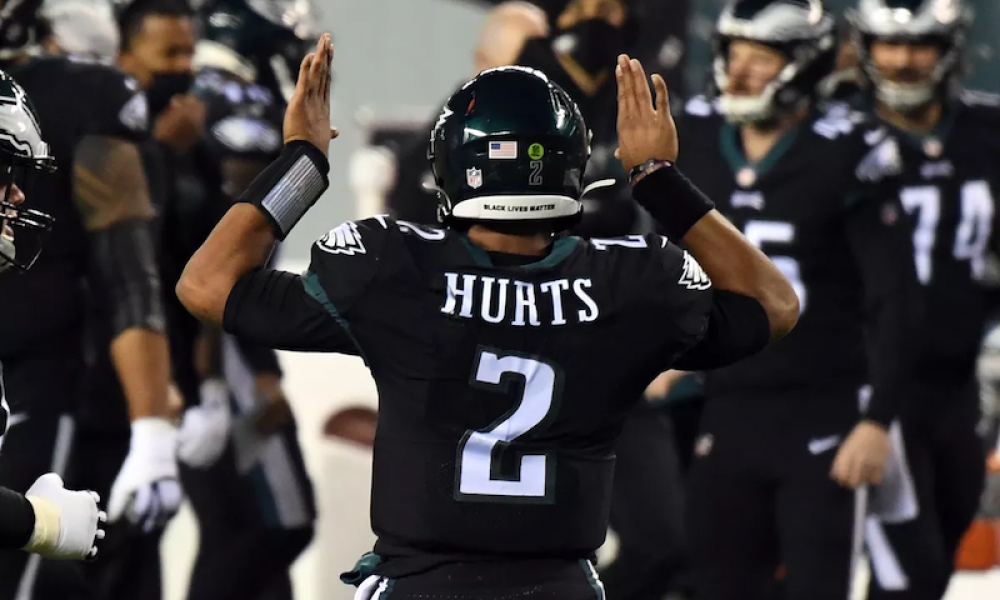 Jalen Hurts: I Ran And They Couldn't Get Me
Quarterback Jalen Hurts cemented his place in Philadelphia Eagles folklore with his football and his words on Sunday night.
Jalen Hurts produced a record-breaking performance in the 40-33 victory over the Green Bay Packers. 
He finished the game with 157 yards rushing on 17 carries and 153 passing yards. As well as that, Jalen Hurts added two touchdowns through the air.
Those rushing yards broke Michael Vick's franchise record of 130, set in 2010 and Hurts wasted no time generating them.
Want $250 to bet on NFL Week 13?
The 24-year-old had racked up 103 rushing yards before the end of the first quarter. "I ran and they couldn't get me," he said.
"It means everything," Hurts said of passing Vick's record. "I have a great deal of respect for those guys. The guys that have come before me. Randall, Mike, McNabb. Just the way they played the game. I always talk about how I admire the way they played the game. And to be thrusted into that category and different things is a blessing. It's a blessing. And it's a lot of hard work going into it. 
"I have a ton of respect for them and their support. And they don't even know how they've affected me, impacted me in my time here. It's an understatement to say how much I appreciate them. Because I do. And they've guided me in more ways than they don't even know. So, I appreciate them and I appreciate this team."
Hurts is on course to have a similar season to Lamar Jackson's 2019 MVP campaign. He's averaging 54.3 rushing YPG and has a 105.6 passer rating on the season.
"This offensive line, this team enjoys doing whatever needs to be done to win," Hurts said. "This team enjoys the feeling of winning and like I said we've put this work in and we've talked about some of these things. Execution fuels emotion."