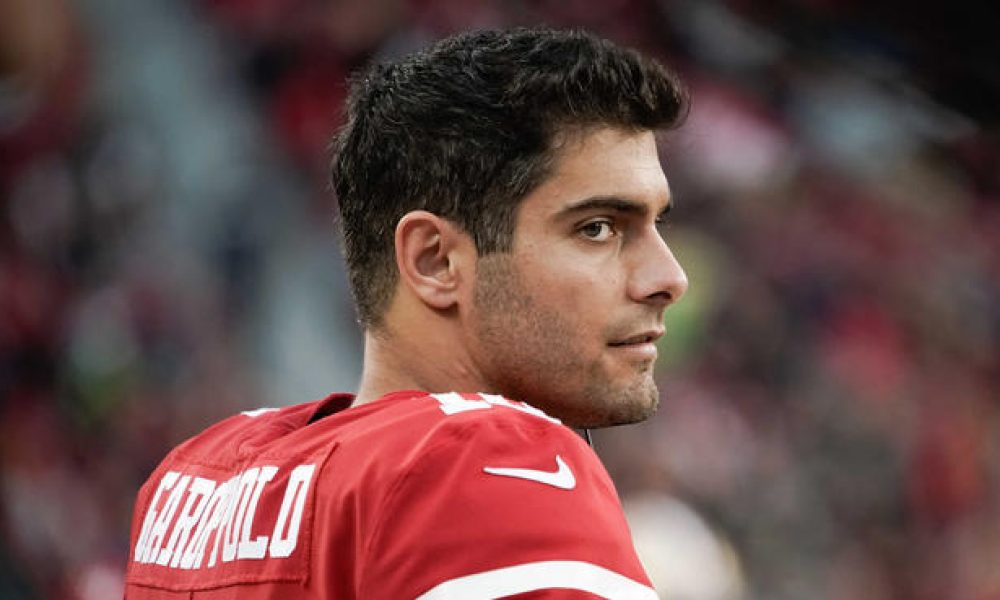 Nov 26, 2017; Santa Clara, CA, USA; San Francisco 49ers quarterback Jimmy Garoppolo (10) watches the game against the Seattle Seahawks during the fourth quarter at Levi's Stadium. Mandatory Credit: Stan Szeto-USA TODAY Sports
NFL Week 13 2022: A case for each favorite
The NFL Week 13 odds and lines are out, and the favorites will try to win and hopefully cover for those betting on them.
Buffalo Bills (-5) at New England Patriots
The advantage at quarterback is absurd. Buffalo should win by a touchdown based on the battle of Josh Allen and Mac Jones alone.
Pittsburgh Steelers at Atlanta Falcons (-1.5)
Atlanta has the extra day of rest, and gets to be at home. This is the classic even-money game, and that could be the difference.
Green Bay Packers (-3) at Chicago Bears
If Justin Fields isn't healthy for the Bears, hammer the Packers.
Jacksonville Jaguars at Detroit Lions (-1)
Detroit has played much better football over the past month, and the Jaguars are coming off a tough game. Also, the Lions are on the mini-bye.
Want $250 to bet on NFL Week 13?
New York Jets at Minnesota Vikings (-3)
The Vikings are at home and have three extra days of rest. New York has a good defense, but Minnesota is more complete.
Washington Commanders (-2.5) at New York Giants
New York is beginning to reel somewhat, and the Commanders have only lost once since inserting Taylor Heinicke into the starting lineup.
Tennessee Titans at Philadelphia Eagles (-5.5)
The Eagles might be the best team in football. Tennessee has struggled to stop the pass all year, so look for a big game from former Titans star A.J. Brown.
Denver Broncos at Baltimore Ravens (-8)
Have you seen the Broncos?
Cleveland Browns (-7) at Houston Texans
Same as above, just swap in the Texans.
Seattle Seahawks (-8) at Los Angeles Rams
The Rams have essentially punted on the season. If the Seahawks can't halt their two-game slide with a big win here, there's deep concern.
Miami Dolphins at San Francisco 49ers (-3.5)
The Dolphins have to come across the country to take on the league's best defense. Tall order, especially against a Niners team rested and waiting at home.
Kansas City Chiefs (-2.5) at Cincinnati Bengals
Kansas City is going to want blood after last year's AFC title game. Also, Patrick Mahomes is the best player on earth.
Los Angeles Chargers (-2) at Las Vegas Raiders
The Chargers know they need to win consistently, or they're going to miss the playoffs once again.
Indianapolis Colts at Dallas Cowboys (-9.5)
Frankly, the Colts don't have the firepower to hang with the Cowboys, especially on primetime.
New Orleans Saints at Tampa Bay Buccaneers (-3.5)
Neither one fo these teams are good, but you take Tom Brady over Andy Dalton every time.