Steve Kerr Ejected After Flagrant Foul Called on Draymond Green
By David A.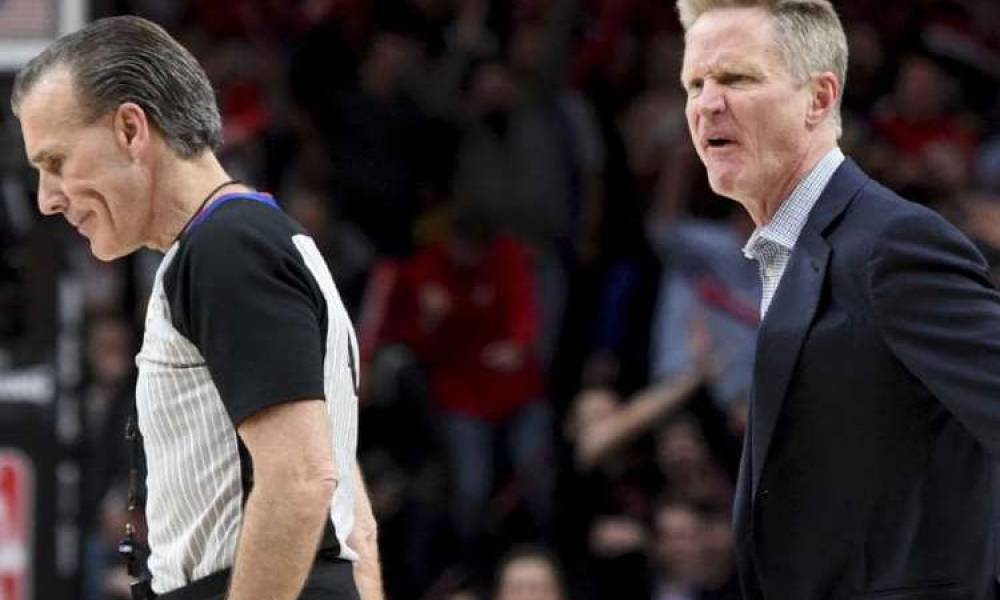 On Wednesday, Warriors head coach Steve Kerr did't see his team lose 129-107 to the Portland Trail Blazers. He was ejected by official Kenny Mauer for arguing over a flagrant foul called on Golden State's Draymond Green late in the final quarter.
The play took place with just 3:54 left in the fourth and Golden State behind 110-103. Green was called for a foul on Zach Collins as the big man for the Blazers was going up toward the rim to dunk the ball. Following the play, officials gathered to review it and a flagrant foul was call on Green.
At that time, Kerr tossed the clipboard he was holding. He then started to defend Green to Mauer in an expletive-filled rant. Mauer quickly ejected Kerr for his behavior and poor choice of words.
Want $250 to bet on the NBA?
Sign up here!
Following the game, Kerr said he could not believe officials even reviewed the foul.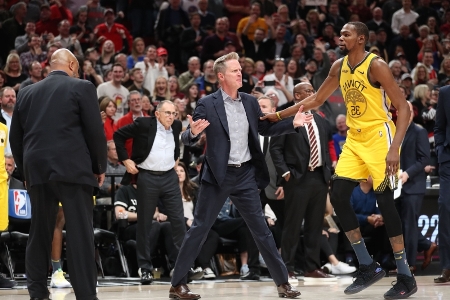 After being ejected Kerr had to be held back by Kevin Durant and Green was also called for a technical foul in the ensuing argument.
Damian Lillard sank the three free throws for the technical fouls and Collins sank the two for the flagrant foul. That turned a 7-point lead instantly into a 12-point advantage. Portland retained possession and promptly hit a 3-pointer giving the Trail Blazers an 8-0 run on one possession. As well as that, they had a lead of 15 points all in a span of just 20 seconds on the game clock.
Green appreciated how Kerr defended him. He added that he believes there is a "Draymond rule" the officials use to call fouls against him. Green has been amongst the leaders in the NBA in technical fouls the last few years and this season already has 11.
The Warriors will have time to calm down as the All-Star Game break began following the game. Golden State is not scheduled to play again until Thursday of next week against Sacramento.