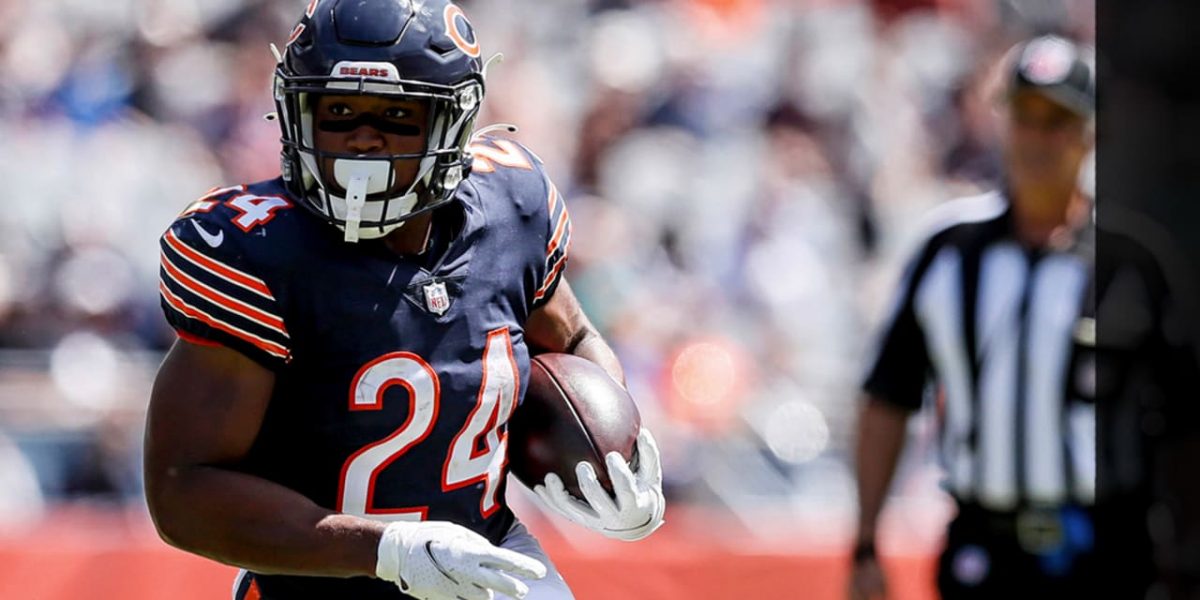 Khalil Herbert: You've Got To Be An Every Down Back
Chicago Bears running back Khalil Herbert is working on his pass blocking in preparation to claim the starting role.
Chicago's RB1 position is there to be won following the departure of David Montgomery to the Lions. Khalil Herbert has always struggled to protect the quarterback, and has put on five pounds and started boxing to be more impactful as a blocker. 
If he can do that, the starting role ought to be his. Last season Khalil Herbet rushed for a career-high 731 yards on 5.7 yards per attempt. That's top among all running backs in the NFL.
Want $250 to bet on NFL futures?
He'll have to see off competition from new recruits D'Onta Foreman, Travis Homer and Roschon Johnson. 
"You know how things go in the NFL now," he said. 
"They're doing things running back by committee. You need one, two, three really good guys that really carry the rock and you know there's gonna be no drop-off. I feel like as a group, we've got a really strong group. We've got guys that can take it to the house at any given moment. So, I'm excited to see what we do.
"Every day, you gotta compete," he said Wednesday regarding Chicago's competition. "You gotta compete. And I come in with the mindset, you know, obviously, I want to be the starter. Just coming in with the mindset of leading and doing what I gotta do and doing what I do every day that I've been doing. I feel like things will work out."
"You've got to be an every down back, so that's a big part of it," Herbert said. 
"It's something I worked on throughout this offseason. I don't know about compared to the other guys, but it's something that I've been working on to fix."