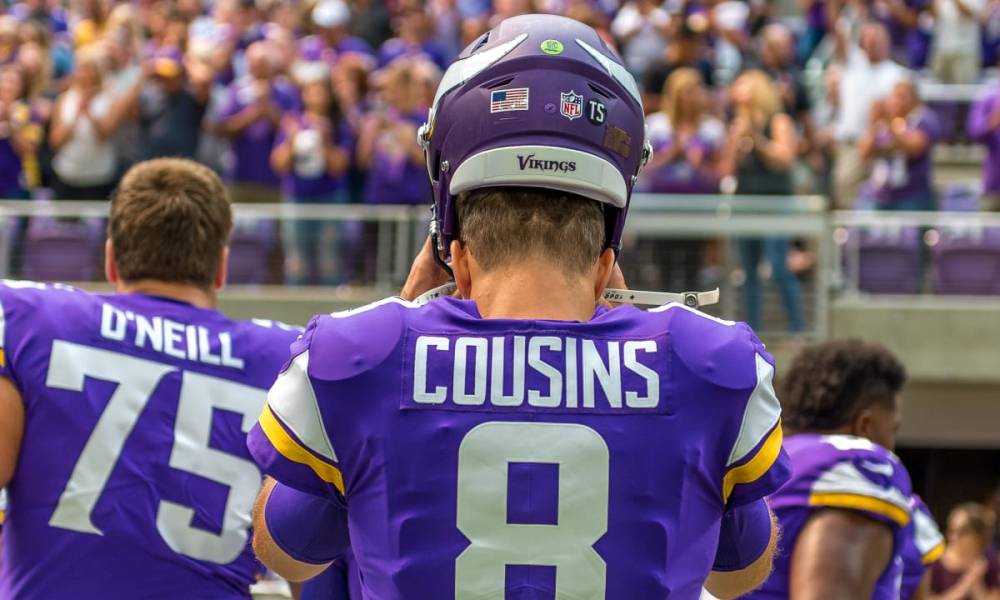 Kirk Cousins Is The Worst Monday Night Football Quarterback
Minnesota Vikings quarterback Kirk Cousins is the proud holder of the worst Monday Night Football record in NFL history. He is now 2 – 10 in his career under the bright lights.
A novel statistic, but his failings in the 24-7 defeat to the Philadelphia Eagles were all too familiar.
Kirk Cousins finished with 27-of-46 for 221 yards, three interceptions and a 51.1 QB rating. As well as that, he was sacked twice. A two-yard second quarter touchdown to Irv Smith was his only positive contribution.
Want $250 to bet on NFL Week 3?
"I think that getting behind early we probably had to throw a little more often than we would have liked, and didn't stay as balanced as we'd like to be," Kirk Cousins said, "and it's probably more just the nature of how the game went, and we certainly want to be balanced as best we can.
"Part of the challenge is we didn't stay on the field, we didn't run enough plays, and so those three-and-outs early aren't how we want to start.
"I think their defense deserves credit," Cousins said, "they did a good job with rush and with coverage, and the combination made it tough for us."
Head coach Kevin O'Connell rushed to take the bullet for his signal caller. However while he might be new to Vikings fans, Cousins is not. The QB will be under even more intense scrutiny in his next match.
"I thought Kirk battled tonight," O'Connell said. "Put him in some tough spots, and I think our overall offensive philosophy, when we do not succeed in activating those things, it puts a lot of pressure on the quarterback, and that's where I once again put this one 100 percent on me."