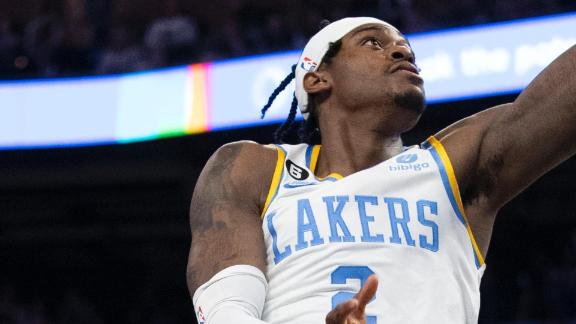 Lakers 'Have No More Freebies' This Season – Vanderbilt
The Lakers remain in the Western Conference's final play-in spot, but don't look like securing the playoffs anytime soon.
Head coach Darvin Ham cut a frustrated figure after Wednesday's 114-110 loss to the Houston Rockets. Before the game, Houston was tied with Detroit for the fewest wins in the league with 16.
They went up by 18 points in the first half to put the game beyond a Lakers team who never looked like wrestling it back.
"We just got to play the game like it's our last," said forward Jarred Vanderbilt.
Want $250 to bet on the NBA?
"We're running out of time. I mean I know we got 12 games left? We have no more freebies, we never had none to begin with. We need all these games."
Darvin Ham agrees, and lamented the 34-36 Lakers' lack of urgency. Houston converted eight of their first 11 field goal attempts. They eventually outscored the Lakers 78-46 in the paint. 
"We've talked about it and I've said it before games, after games, non-game days: energy, effort and urgency," Darvin Ham said. "And I thought coming out of the gates that kind of was nonexistent.
"It's a product of us not being good on the ball," Ham said. "That individual pride it takes to keep the ball in front and guys behind you knowing that the paint is the priority. This team lives in the paint. The Houston Rockets live in the paint. … And we preached that to them before the game."
"When you struggle defensively and you're playing against a set defense, the offense is going to struggle," Ham said. "You're not going to be able to be in a good rhythm.
"I mean, it's the NBA," Ham said. "If you're not cut out for this, you're in the wrong business. I love it, personally. Would I rather have a sound and secure spot in the postseason? Yeah. Who wouldn't? But our circumstances are what they are."