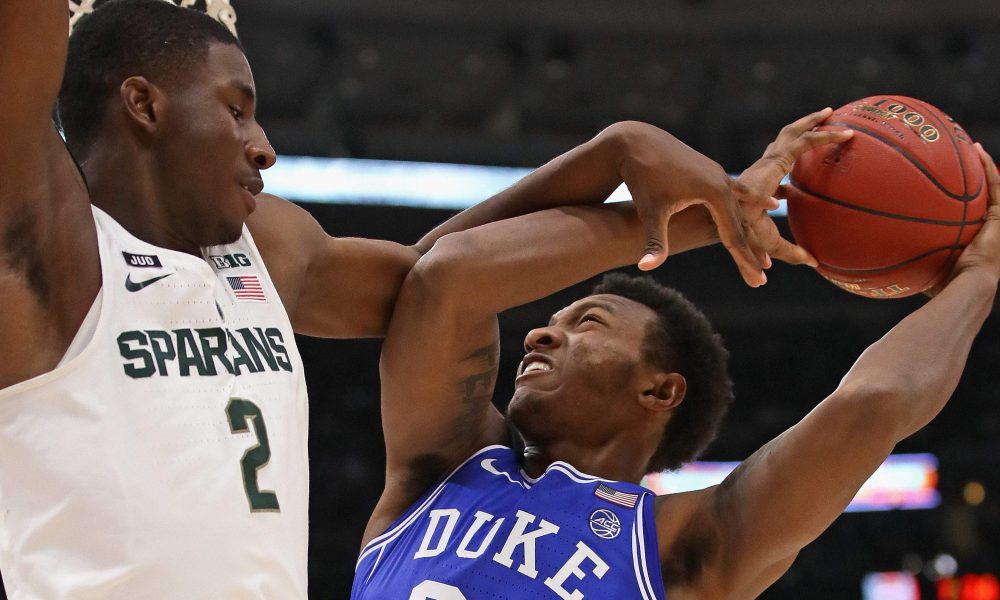 March Madness Futures: Michigan State Overtakes Duke
Earlier in the month Duke was on top of the March Madness Futures, however Michigan State has now overtaken the Blue Devils in the future odds.
It was Duke that was consider the team at the top at the early part of the month but now Michigan State is standing firm on top of the odds.
The Blue Devils did lose some key players to the draft, however bettors and the books pushed the team to the top of the odds. They still sit with the second best odds at 5/1 but Michigan State sit at 9/2 at the top of the odds.
Meanwhile, Michigan State has been quietly building the best team in the NCAA and this is the time for the Big 10 squad to really compete in March Madness.
Arguably the best recruiting team in the NCAA, Kentucky sits behind Arizona with the fourth best odds, while Kansas and North Carolina are tied up to round out the top five.
You can see the full odds below, pulled from BetOnline.
March Madness Futures
| | |
| --- | --- |
| Michigan State | 9/2 |
| Duke | 5/1 |
| Arizona | 8/1 |
| Kentucky | 10/1 |
| Kansas | 12/1 |
| North Carolina | 12/1 |
| Wichita State | 16/1 |
| Missouri | 16/1 |
| Villanova | 18/1 |
| Louisville | 20/1 |
| Florida | 25/1 |
| West Virginia | 25/1 |
| Gonzaga | 25/1 |
| USC | 28/1 |
| Cincinnati | 33/1 |
| Notre Dame | 33/1 |
| Oregon | 33/1 |
| Saint Mary's | 33/1 |
| Alabama | 40/1 |
| Michigan | 40/1 |
| Purdue | 40/1 |
| UCLA | 40/1 |
| Indiana | 50/1 |
| Miami, Florida | 50/1 |
| Virginia | 50/1 |
| Arkansas | 66/1 |
| Auburn | 66/1 |
| Baylor | 66/1 |
| Butler | 66/1 |
| Oklahoma | 66/1 |
| Texas | 66/1 |
| Texas A&M | 66/1 |
| Xavier | 66/1 |
| Creighton | 80/1 |
| Florida State | 80/1 |
| Minnesota | 80/1 |
| Seton Hall | 80/1 |
| Nevada | 100/1 |
| South Carolina | 100/1 |
| SMU | 100/1 |
| TCU | 100/1 |
| Wisconsin | 100/1 |
| Maryland | 125/1 |
| Northwestern | 125/1 |
| Providence | 125/1 |
| Virginia Tech | 125/1 |
| Rhode Island | 200/1 |
| Memphis | 250/1 |
| Dayton | 250/1 |
| UCF | 250/1 |
| Georgia | 250/1 |
| Middle Tennessee | 500/1 |
| Ball State | 500/1 |
| Oakland | 500/1 |
| Harvard | 500/1 |
| Georgia Tech | 500/1 |