2019 MLB Home Run Odds
By Jonathan K.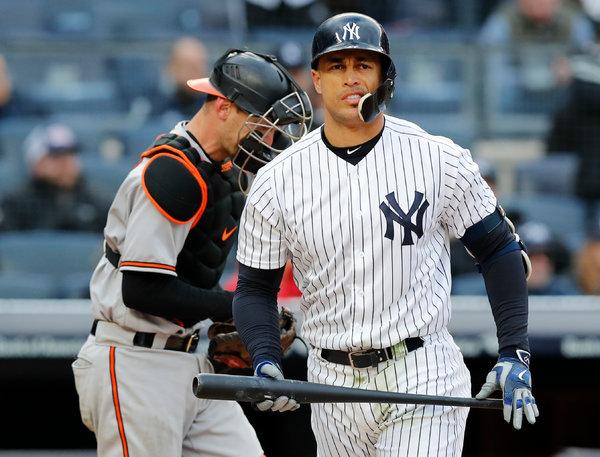 It seems as though the season just ended, but the 2019 MLB home run odds are up and ready to bet on.
Last season, it was the Boston Red Sox's J.D. Martinez who hit 43 homers and took the home run title. However, he only has the third best odds, right behind him is last year's runner up is Rangers' Joey Gallo. who knocked 40 out of the park.
The two big favorites in 2019 are Giancarlo Stanton and Aaron Judge of the New York Yankees.  Judge missed 50 games last season with an injury. Stanton fell below expectations after a slow start, but he is expected to swing for the fences in 2019.
You can see the full 2019 MLB home run odds below, pulled form BetOnline.
Giancarlo Stanton 7/1
Aaron Judge 10/1
JD Martinez 18/1
Joey Gallo 20/1
Khris Davis 20/1
Mike Trout 20/1
Bryce Harper 25/1
Matt Olson 30/1
Nolan Arenado 30/1
Nelson Cruz 35/1
Anthony Rizzo 50/1
Edwin Encarnacion 50/1
Francisco Lindor 50/1
Manny Machado 50/1
Rhys Hoskins 50/1
Gary Sanchez 60/1
Jesus Aguilar 60/1
Jose Ramirez 60/1
Juan Soto 60/1
Justin Upton 60/1
Kris Bryant 60/1
Kyle Schwarber 60/1
Mike Moustakas 60/1
Mookie Betts 60/1
Ronald Acuna Jr 60/1
Trevor Story 60/1
Alex Bregman 80/1
Carlos Correa 80/1
Charlie Blackmon 80/1
Christian Yelich 80/1
Cody Bellinger 80/1
Eugenio Suarez 80/1
Freddie Freeman 80/1
George Springer 80/1
Hunter Renfroe 80/1
Javier Baez 80/1
Jose Abreu 80/1
Josh Donaldson 80/1
Marcell Ozuna 80/1
Michael Conforto 80/1
Paul Goldschmidt 100/1
Aaron Hicks 100/1
Albert Pujols 100/1
Anthony Rendon 100/1
Brian Dozier 100/1
Carlos Santana 100/1
Chris Davis 100/1
Corey Seager 100/1
David Dahl 100/1
Eddie Rosario 100/1
Franmil Reyes 100/1
Gregory Polanco 100/1
Justin Smoak 100/1
Kendrys Morales 100/1
Kyle Seager 100/1
Maikel Franco 100/1
Mark Trumbo 100/1
Matt Carpenter 100/1
Matt Chapman 100/1
Miguel Andujar 100/1
Miguel Cabrera 100/1
Miguel Sano 100/1
Mitch Haniger 100/1
Nicholas Castellanos 100/1
Nomar Mazara 100/1
Paul DeJong 100/1
Randal Grichuk 100/1
Robinson Cano 100/1
Rougned Odor 100/1
Ryan Braun 100/1
Ryan Zimmerman 100/1
Salvador Perez 100/1
Scott Schebler 100/1
Shohei Ohtani 100/1
Todd Frazier 100/1
Travis Shaw 100/1
Tyler Austin 100/1
Vladimir Guerrero Jr 100/1
Wil Myers 100/1
Yasiel Puig 100/1
AJ Pollock 200/1
Adalberto Mondesi 200/1
Adam Duvall 200/1
Adam Jones 200/1
Andre McCutchen 200/1
Avisail Garcia 200/1
Brandon Belt 200/1
CJ Cron 200/1
Corey Dickerson 200/1
Daniel Murphy 200/1
Daniel Palka 200/1
David Peralta 200/1
Elov Jimenez 200/1
Eric Hosmer 200/1
Evan Longoria 200/1
Gleyber Torres 200/1
Jay Bruce 200/1
Joc Pederson 200/1
Joey Votto 200/1
Jonathan Schoop 200/1
Jorge Soler 200/1
Justin Turner 200/1
Kole Calhoun 200/1
Logan Morrison 200/1
Luke Voit 200/1
Max Kepler 200/1
Max Muncy 200/1
Nick Williams 200/1
Ozzie Albies 200/1
Rafael Devers 200/1
Renato Nunez 200/1
Ryan O'Hearn 200/1
Scooter Gennett 200/1
Shin-Soo Choo 200/1
Stephen Piscotty 200/1
Steven Souza Jr 200/1
Trey Mancini 200/1
Tyler White 200/1
Yasmani Grandal 200/1
Yonder Alonso 200/1
Andrew Benintendi 300/1
Austin Meadows 300/1
Brandon Nimmo 300/1
Carlos Gonzalez 300/1
Christin Stewart 300/1
Eduardo Escobar 300/1
Enrique Hernandez 300/1
Franklin Barreto 300/1
Ian Desmond 300/1
Ian Happ 300/1
JT Realmuto 300/1
Jackie Bradley Jr 300/1
Jedd Gyorko 300/1
Jeimer Candelario 300/1
Jessee Winker 300/1
Ji-Man Choi 300/1
Johan Camargo 300/1
Jose Altuve 300/1
Joser Martinez 300/1
Josh Bell 300/1
Josh Reddick 300/1
Jurickson Profar 300/1
Lorenzo Cain 300/1
Marcus Semien 300/1
Marwin Gonzalez 300/1
Michael Brantley 300/1
Mike Zunino 300/1
Mitch Moreland 300/1
Odubel Herrera 300/1
Peter O'Brien 300/1
Ronald Guzman 300/1
Ryon Healy 300/1
Starling Marte 300/1
Tim Anderson 300/1
Tommy Pham 300/1
Trea Turner 300/1
Wilson Ramos 300/1
Xander Bogaerts 300/1
Yoan Moncada 300/1
Yuli Gurriel 300/1