MLB Season Win Totals
By Jonathan K.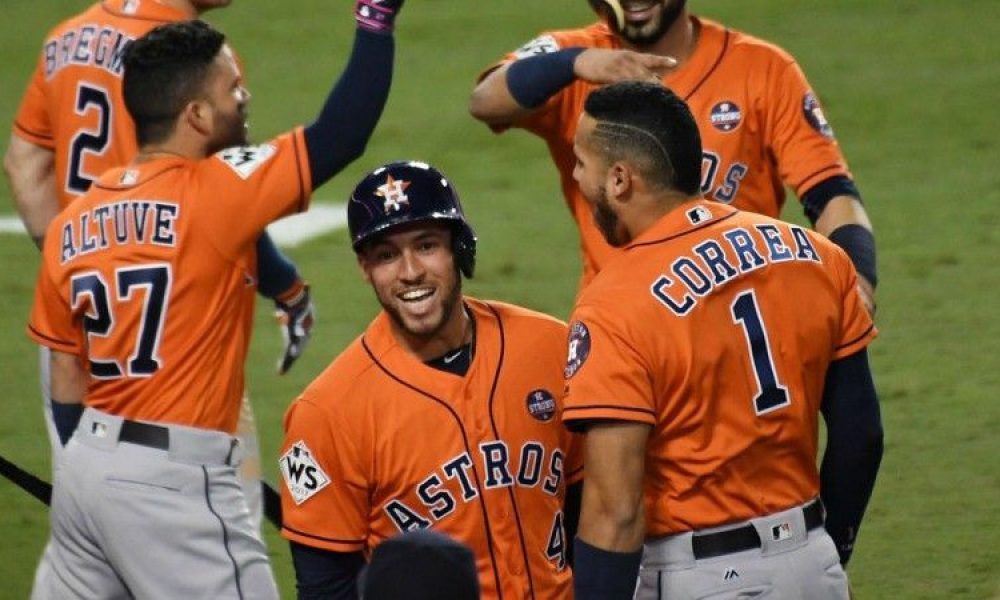 Opening day is not until March 29, but the MLB season win totals are posted and ready to bet on at many websites.
Bookmakers think that Houston and the Dodgers are expected to post a lot of wins this season. Both teams are listed at a whopping 96.5 wins, the highest in the league.
The Miami Marlins are expected to be the worse team in the MLB with totals set at 64.5. The Detroit Tigers are also posted at 68.5 wins.
You can see the win totals below, pulled from BetOnline.ag
Arizona Diamondbacks
Over 85 ½ Wins -110
Under 85 ½ Wins -110
Atlanta Braves
Over 74 ½ Wins -110
Under 74 ½ Wins -110
Baltimore Orioles
Over 73 Wins -110
Under 73 Wins -110
Boston Red Sox
Over 91 ½ Wins -110
Under 91 ½ Wins -110
Chicago Cubs
Over 94 ½ Wins -110
Under 94 ½ Wins -110
Chicago White Sox
Over 68 Wins -110
Under 68 Wins -110
Cincinnati Reds
Over 73 ½ Wins -110
Under 73 ½ Wins -110
Cleveland Indians
Over 94 ½ Wins -110
Under 94 ½ Wins -110
Colorado Rockies
Over 82 Wins -110
Under 82 Wins -110
Detroit Tigers
Over 68 ½ Wins -110
Under 68 ½ Wins -110
Houston Astros
Over 96 ½ Wins -110
Under 96 ½ Wins -110
Kansas City Royals
Over 71 ½ Wins -110
Under 71 ½ Wins -110
Los Angeles Angels
Over 84 ½ Wins -110
Under 84 ½ Wins -110
Los Angeles Dodgers
Over 96 ½ Wins -110
Under 96 ½ Wins -110
Miami Marlins
Over 64 ½ Wins -110
Under 64 ½ Wins -110
Milwaukee Brewers
Over 84 ½ Wins -105
Under 84 ½ Wins -115
Minnesota Twins
Over 82 ½ Wins -120
Under 82 ½ Wins +100
New York Mets
Over 81 Wins -110
Under 81 Wins -110
New York Yankees
Over 94 ½ Wins -110
Under 94 ½ Wins -110
Oakland Athletics
Over 74 ½ Wins -110
Under 74 ½ Wins -110
Philadelphia Phillies
Over 75 ½ Wins -110
Under 75 ½ Wins -110
Pittsburgh Pirates
Over 73 Wins -110
Under 73 Wins -110
San Diego Padres
Over 69 ½ Wins -115
Under 69 ½ Wins -105
San Francisco Giants
Over 81 ½ Wins -110
Under 81 ½ Wins -110
Seattle Mariners
Over 81 ½ Wins -110
Under 81 ½ Wins -110
St. Louis Cardinals
Over 85 ½ Wins -110
Under 85 ½ Wins -110
Tampa Bay Rays
Over 77 ½ Wins -110
Under 77 ½ Wins -110
Texas Rangers
Over 77 ½ Wins -110
Under 77 ½ Wins -110
Toronto Blue Jays
Over 81 Wins -105
Under 81 Wins -115
Washington Nationals
Over 92 ½ Wins -115
Under 92 ½ Wins -105