Nationals blow out Astros, take 2-0 lead in World Series
By Amber Lee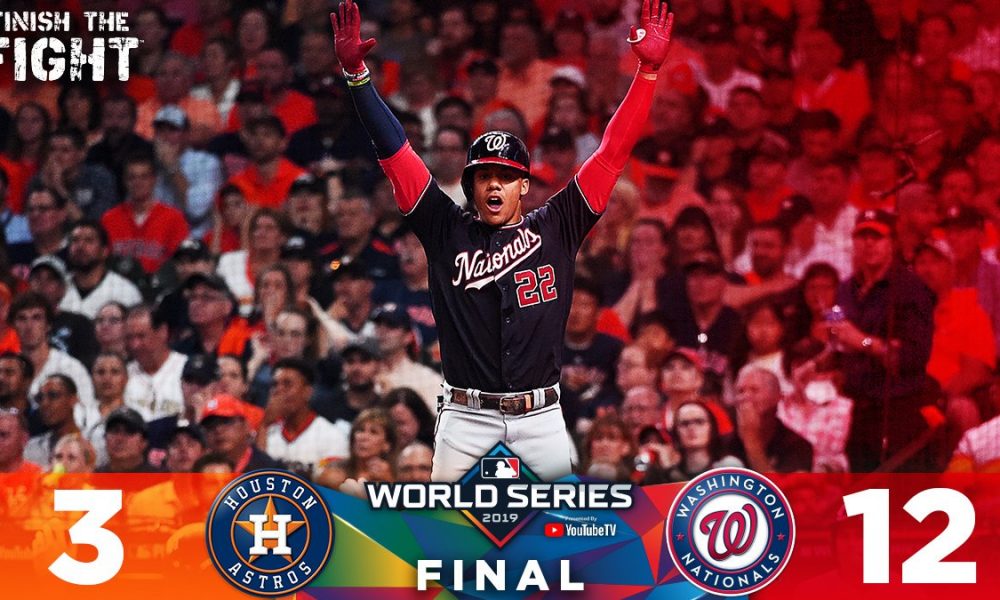 For the 2nd time in #WorldSeries history…

🗣️ PUT A #CURLYW IN THE BOOKS!

FINAL // #Nats 12, Astros 3 pic.twitter.com/JdhHnB85TS

— Washington Nationals (@Nationals) October 24, 2019
The visiting Nationals took a commanding 2-0 series lead in a 12-3 shellacking of the Astros in World Series Game 2.
Justin Verlander gave up two very early runs to Anthony Rendon when the NL MVP candidate smashed a two-run double to left field.
Washington didn't look back after that, scoring 10 more runs against Verlander, Ryan Pressly, Josh James and other Astros relievers.
Nationals starter Stephen Strasburg did his part, as well; the right-hander pitched six innings of two-run ball, striking out seven and allowing one walk.
He allowed a first-inning home run to Alex Bregman that accounted for Houston's only runs until Martin Maldonado homered in the ninth.
The Washington Nationals have been the best team in @MLB since May 24.#WorldSeries // #STAYINTHEFIGHT pic.twitter.com/AB5WO6krsQ

— Washington Nationals (@Nationals) October 24, 2019
Now the World Series shifts to Washington, with the Nats' Anibal Sanchez facing off against the Astros' Zack Greinke in Game 3.
With the way Sanchez has been pitching this postseason, the Nationals could be looking at a 3-0 series lead — but don't count out Greinke, a one-time Cy Young winner, and the AL champions just yet.