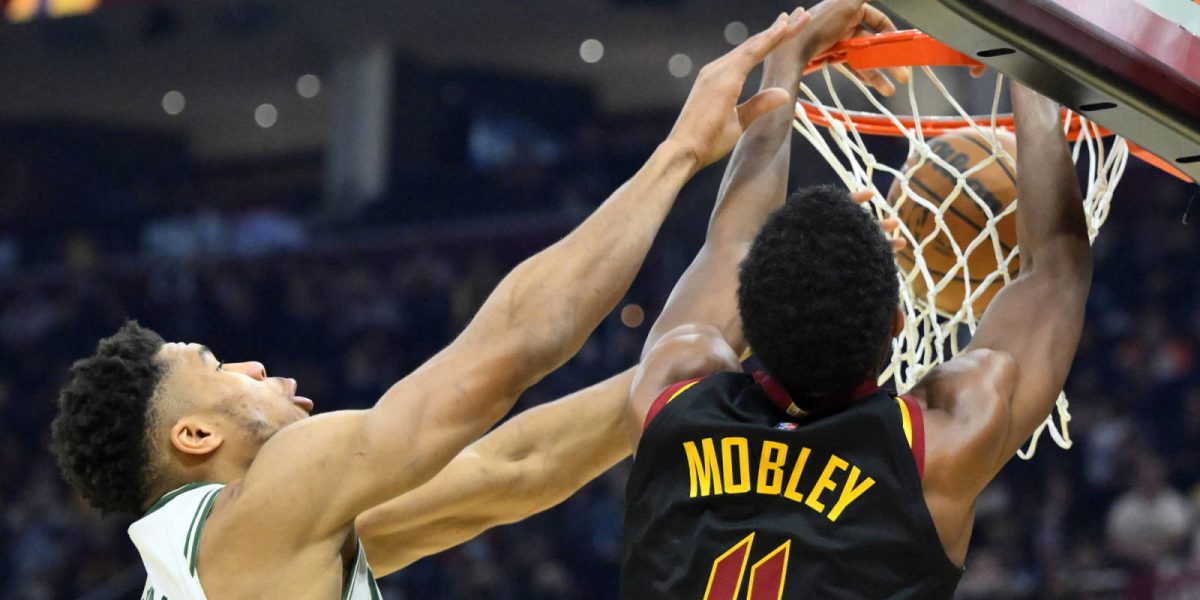 Jan 26, 2022; Cleveland, Ohio, USA; Cleveland Cavaliers center Evan Mobley (4) dunks beside Milwaukee Bucks forward Giannis Antetokounmpo (34) in the second quarter at Rocket Mortgage FieldHouse. Mandatory Credit: David Richard-USA TODAY Sports
Giannis Antetokounmpo: Cavs' Evan Mobley 'can be better than me'
Milwaukee Bucks star forward Giannis Antetokounmpo has firmly established himself as one of the league's best players.
While he's among the NBA's elite talent, it hasn't stopped him from recognizing other players that are on the rise toward that potential stardom. During a recent interview, Giannis Antetokounmpo voiced that Cleveland Cavaliers' big man Evan Mobley could one day become a better player than him.
"He can be better than me," Antetokounmpo told cleveland.com… "I don't see why he can't. It's up to him. I will always try to improve. Every day. But he has the skill set to be a very, very good player. He's 7-feet tall. He can move really well. He can shoot. He is very smart. As you said, he watches tapes of other players, which is very, very good for a young player. If he takes this seriously, he is going to be great."

Better than Giannis? What could possibly make him say that?

"I didn't average what he is in my second season, so he's already ahead of me," Antetokounmpo told cleveland.com. "It's in his hands. If he stays humble, continues to work hard, focuses on the game and shows love to the game of basketball, he is going to be really good."
In Mobley's short time in the NBA, he's quickly shown himself to be a significant factor on both ends of the floor. He has become a strong rim protector while showing versatility to guard multiple positions.
Want $250 to bet on the NFL?
Meanwhile, he has a unique offensive skillset that allows him to operate effectively in the post out to the mid-range. The 21-year-old holds a bright future ahead, and Antetokounmpo's praise only further underlines that.