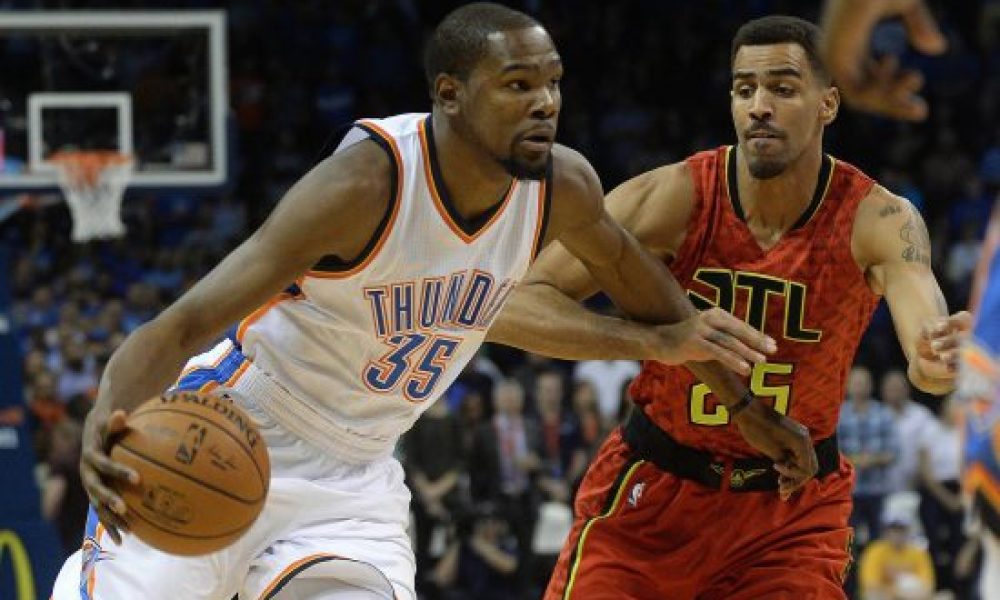 Mark D. Smith-USA TODAY Sports
NBA Rumors: Lakers, Hawks Still Trying To Get Meeting With Kevin Durant
NBA free agency will officially open for business on Fri. July 1 with every team supporting ample cap space hoping to get a face-to-face meeting with superstar Kevin Durant. Although the frontrunners for Durant's services have emerged with the Golden State Warriors, San Antonio Spurs, Miami Heat, and Thunder among teams expected to get the most consideration, a few other teams want to get involved.
The Los Angeles Lakers have been linked to Durant for quite some time with the team hoping to find a viable replacement as the face of the franchise now that Kobe Bryant has retired. The Atlanta Hawks are throwing their hat into the ring a bit late in the game. No one seems to believe the Hawks has much of a chance of landing the one-time NBA MVP. Despite Atlanta's chances projected chances of signing Durant, the team still wants a meeting if they can get it, according to ESPN's Marc Stein:
Sources told ESPN.com that the Hawks, like the New York Knicks and Los Angeles Lakers, have been working to try to convince Durant and his representatives to grant them a face-to-face recruiting meeting after free agency starts at 12:01 a.m. on July 1, even though their chances appear dim.
At this point, all signs continue to point to Durant simply staying with the Thunder for at least one more season. The perennial All-Star can sign a lucrative one-year deal and opt for free agency once again next summer. This gives him a chance to test out Oklahoma City for another year and take advantage of another salary cap bump next July.
Of course, electing to sign a one-year deal comes with some risk. Durant's recent injury issues could flare up again and jeopardize a long-term deal. The veteran forward appears willing to take the risk meaning the Durant sweepstakes may continue the same time next year.