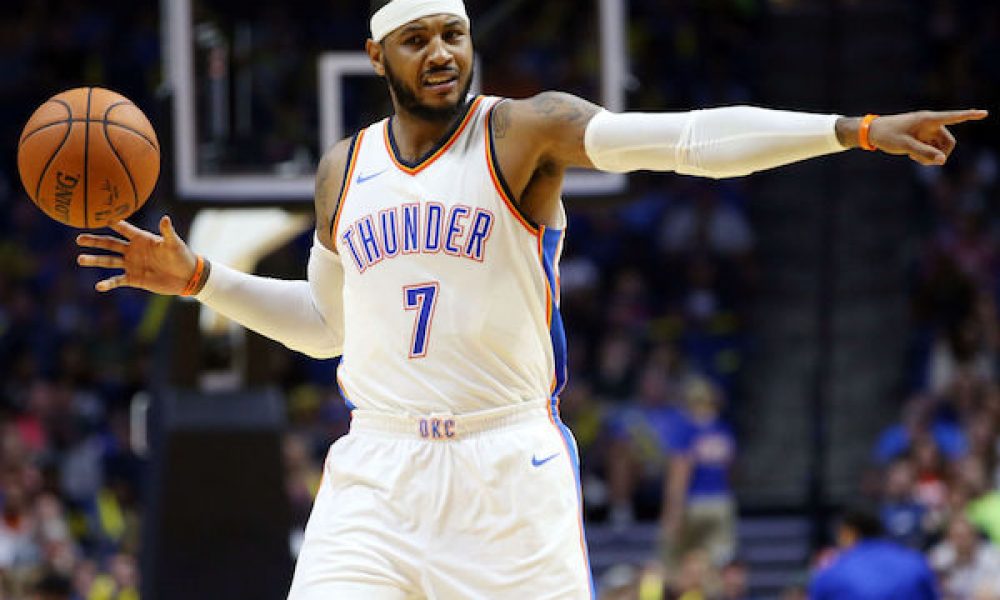 Thunder to save $100 million by waiving veteran Carmelo Anthony
The Oklahoma City Thunder had taken on a huge financial responsibility after retaining All-Star forward Paul George. As well as that, it re-signed both Raymond Felton and Jerami Grant to new deals. This had pushed their payroll and luxury tax bill to over $300 million.
It had put the franchise in the position to make a contract decision with former All-Star forward Carmelo Anthony by waiving him to save them more than $100 million next season, according to Adrian Wojnarowski and Royce Young of ESPN.
As the Oklahoma City Thunder navigate a historic $310 million payroll and luxury tax bill, the franchise's front office is working through scenarios that will culminate in the inevitable this summer: an ending to the brief Carmelo Anthony partnership, which could deliver the Thunder over $100 million in cost savings.
The massive financial implications of Anthony opting into his $27.9 million contract for the 2018-19 season — coupled with a mutual understanding that his scaled-back role with the Thunder isn't what he had signed up for — have dictated that the two sides will part ways sometime this summer, league sources told ESPN.
Want $250 to bet on NBA futures?
Sign up today!
The Thunder likely preferred to keep Anthony on board next season. Although, not on the financial capacity that it would have cost the team. The team is over the salary cap limit. That pushed them into the luxury tax where the salaries of players are multiplied.
This made parting with Anthony, who was due $27.9 million for the 2018-19 season an easy decision financially. Oklahoma City has stretched that money over the next three years for a $9.3 million cap hit.
This now puts Anthony on the market. He has already received interest from the Houston Rockets, Los Angeles Lakers, and Miami Heat. Last season, the 34-year-old averaged 16.2 points on a career-low 40.4 percent shooting from the field. He also had 35.7 percent from 3-point range along with 5.8 rebounds in 32.1 minutes per contest while starting in all 78 games played.