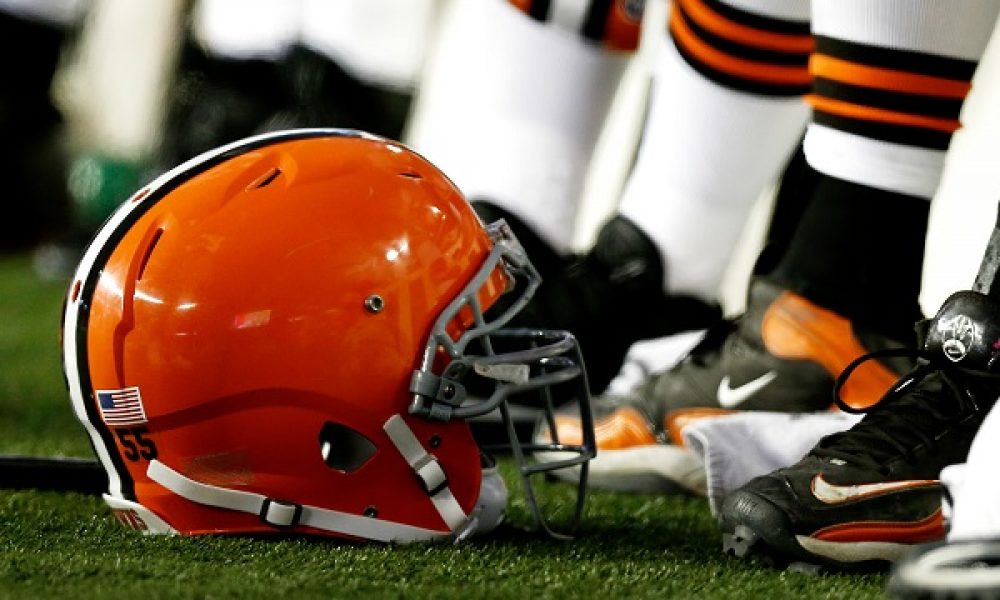 Dec 8, 2013; Foxborough, MA, USA; A Cleveland Browns helmet sits on the sidelines during the fourth quarter of New England's 27-26 win at Gillette Stadium. Mandatory Credit: Winslow Townson-USA TODAY Sports
Cleveland Browns ready for season with or without Deshaun Watson
The Cleveland Browns are trying to get their season started. However without clarity on Deshaun Watson's status, that's close to impossible.
It's August, and nobody knows who is going to take the majority of snaps this season for the Cleveland Browns.
That uncertainty makes it difficult for Browns head coach Kevin Stefanski to prepare for the upcoming campaign. Meanwhile, the man himself understands Cleveland must be ready to go come Week 1. His team opens the season with a visit to Baker Mayfield and the Carolina Panthers.
Want $250 to bet on NFL futures?
On Friday, Stefanski spoke to the media about the situation and how he's trying to navigate it, per ESPN:
"We've got to get Deshaun ready to play, he hasn't played football in a year. We've got to get Jacoby ready to play, he's potentially going to be playing early for us and starting and we're going to be counting on him. … We're going to be using every opportunity we have out here, individual drill, post-practice, during practice, we've got to get all these guys ready to play."
With Watson currently facing a six-game suspension by way of Disciplinary Officer Sue Robinson's suggestion on Monday morning, the Browns are facing the prospect of backup quarterback Jacoby Brissett starting deep into October. Should Robinson's decision hold up through the NFL's appeal — likely to reach a verdict before the regular season begins — Watson stands to play 11 games if healthy. However, there's a chance he doesn't suit up once.
For the Browns, Stefanski enters his third season and is trying to get Cleveland back to the playoffs after the team finished 8-9 behind an injury-ravaged Mayfield in 2021. The offense is hoping to reboot with the addition of star receiver Amari Cooper and Watson.
This after the Browns traded three first-round picks to the Houston Texans for Watson and then immediately extended him for $230 million guaranteed despite his facing two-dozen civil suits at the time (one remains, the other 23 have been settled for an undisclosed amount).
In short, Cleveland hopes to contend this year but also realized upon acquiring Watson he could be missing time. And if he does, regardless of who fills in for him, the Browns are at a significant disadvantage in a division featuring Joe Burrow and Lamar Jackson.
Soon, we'll have clarity. Stefanski will have clarity. The Browns will have their plan, a winning one or not.