Colts have work ahead with Carson Wentz to be contender
By Matt Verderame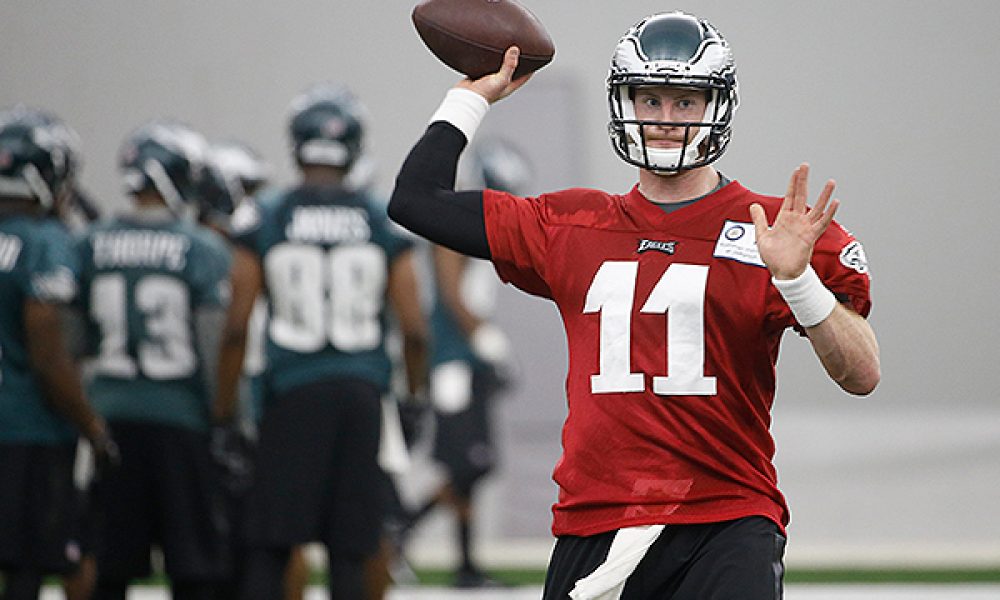 On Thursday, the Indianapolis Colts made a trade for Carson Wentz, sending two draft picks to the Philadelphia Eagles. Was it worth the investment?
We no longer are wondering who the Indianapolis Colts' quarterback is. However, we still don't now if the Colts have a quarterback.
After trading a 2021 third-round pick and conditional '22 second-round choice (which becomes a first-round pick if Wentz plays 75 percent of the snaps in 2022, or plays 70 percent of snaps and Indy advances to the postseason), Colts general manager Chris Ballard is making a big bet.
In short, Ballard gave up a pair of of top-100 selections for an expensive, 28-year-old quarterback. A quarterback who was benched last year in Philadelphia. Yet Indianapolis believes it can fix Wentz, largely because head coach Frank Reich was the Eagles offensive coordinator in 2017. That's Wentz starred and rose to prominence before tearing his ACL in December.
Want $250 to bet on NFL futures?
Carson Wentz had thrown for 33 touchdowns against seven interceptions that season, leading the MVP conversation before injury. Since then, he's never been the same, falling apart completely in 2020.
If Reich can get Wentz anywhere near the MVP-level form we saw years ago, the Colts become an intriguing team in the AFC. It's tough to make an argument for them being on the same level as the Kansas City Chiefs. Although they'd be a contender for the top challenger alongside the Buffalo Bills, Baltimore Ravens, Pittsburgh Steelers and Tennessee Titans.
The good news? Indianapolis still has roughly $34 million to spend (at least) before bumping against the salary cap. The Colts and Ballard can be aggressive in free agency, perhaps going after an elite receiver such as Chris Godwin, Allen Robinson or even Kenny Golladay. Pairing one of them with second-year man Michael Pittman and the tight end combo of Mo-Alie Cox and Jack Doyle would give Wentz a solid group of targets.
Ultimately, the Colts could see this go sideways. If Wentz can't improve greatly, the Eagles get a pair of premium picks while Indianapolis spends a small fortune while wasting two years of a good roster.
Still, the trade makes sense for a team and coach who believe in Wentz as it tries to scale the AFC South and eventually, compete for Super Bowl glory.