Cowboys breathe easier with Ezekiel Elliott avoiding suspension
By Matt Verderame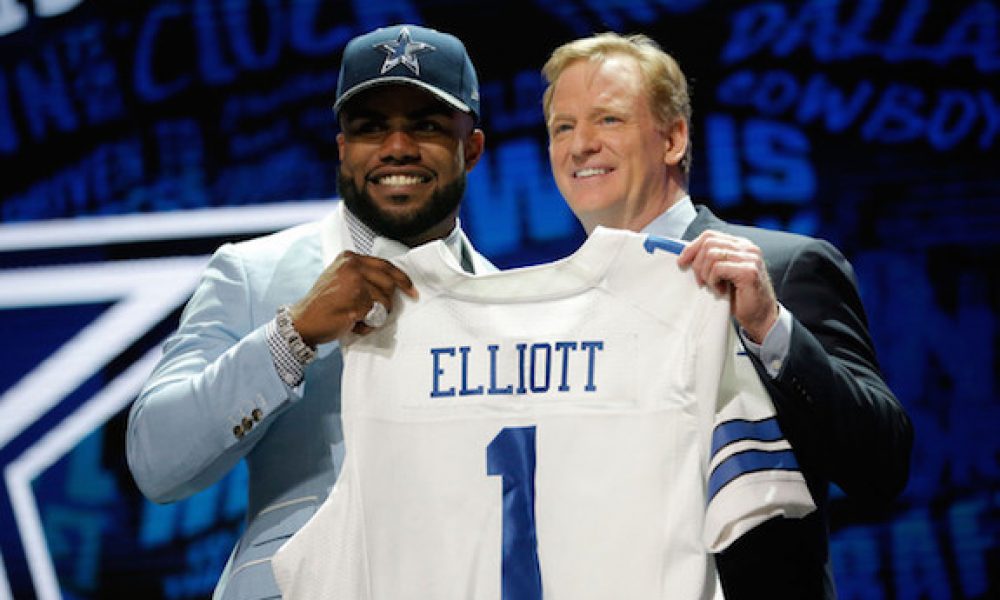 On Wednesday, Dallas Cowboys running back Ezekiel Elliott found out he won't be suspended for his Las Vegas incident back in May. You can almost hear the state of Texas releasing a massive sigh.
Elliott has led the league in rushing yardage two of his three NFL seasons. He drafted fourth-overall out of Ohio State University. Almost inarguably, Elliott is the most important running back in the game relative to his team's success. Without him, the Cowboys are looking at an offense that revolves around Dak Prescott, Amari Cooper and little else.
Want $250 to bet on NFL futures?
Sign up here!
With NFL commissioner Roger Goodell deciding against a ban for Elliott, Dallas remains a threat to the Philadelphia Eagles in the NFC East. Here's the entire statement released by the league:
Immediately following reports of an incident in Las Vegas in May involving Ezekiel Elliott of the Dallas Cowboys, the NFL conducted a comprehensive investigation that included interviews with multiple witnesses, including security personnel and others with direct involvement, as well as a review of documentary and other information.
On Tuesday, as part of the review, NFL Commissioner Roger Goodell met with Mr. Elliott to reinforce the standards of conduct expected of him and the consequences for failing to meet those standards.
Mr. Elliott acknowledged that he demonstrated poor judgment and committed to make better choices in the future. He volunteered to take advantage of the resources available to help him continue to grow personally.
Commissioner Goodell determined there was no violation of the personal conduct policy and no further action is warranted.
Had Elliott been suspended even for a few games, it could have meant the different between fighting for the division title and playing to be a wild card team. The strength of the Cowboys now resides on the defensive side of the ball. Meanwhile, Elliott gives Dallas balance and a way to keep defenses from rolling coverage towards and then doubling Cooper.
With training camp only three weeks away, the distractions surrounding the Cowboys this offseason have finally melted away. Dallas was able to sign defensive end DeMarcus Lawrence to a monster five-year, $105 million extension after initially using the franchise tag on him. Now, Elliott's situation has also been put in the proverbial rearview mirror, setting up a drama-free August should things remains status quo.
For Elliott, and the Cowboys, Wednesday's news provide comfort before a season with high expectations ahead.