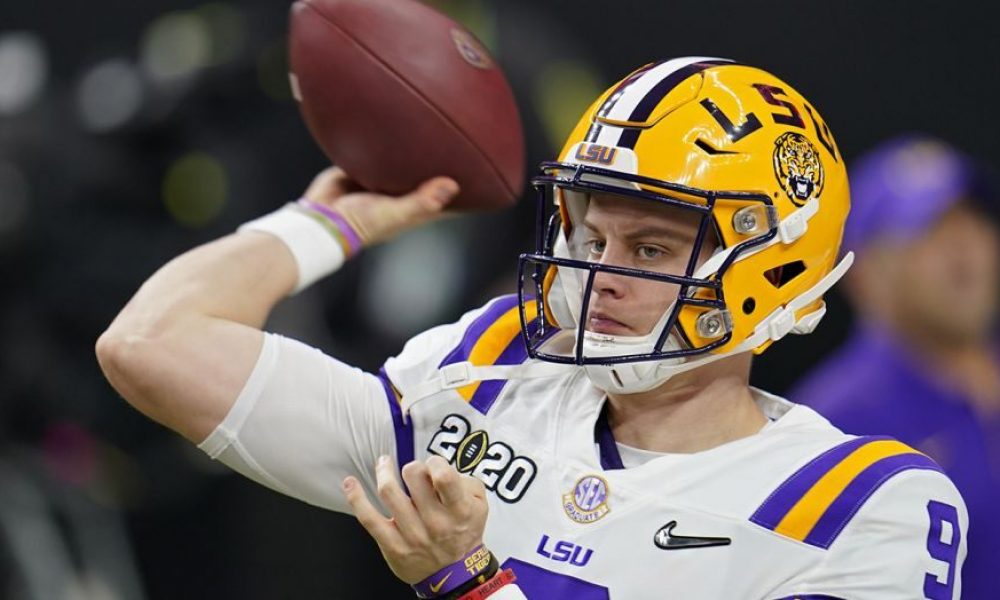 Joe Burrow says 'I do have leverage' on Bengals ahead of NFL Draft
Over the last few weeks, the chatter around LSU standout quarterback Joe Borrow has grown louder. Questions abound over his possible desire to not play for the Cincinnati Bengals.
Borrow's comments around the Super Bowl made headway as he sounded non-committal to the Bengals. However, the Bengals hold the first overall pick in this year's draft. That sense has only become stronger as he recently stated that he does have leverage in the situation. (H/T Ben Baby of ESPN)
Want $250 to bet on NFL futures?
Sign up here!
"I do have leverage," the former LSU quarterback said, according to the Fort Worth Star-Telegram, during a reception in Fort Worth in which he accepted the Davey O'Brien Award, given to the nation's top college quarterback. "[The Bengals] have their process, and I have my process. We haven't even gotten to the [NFL] combine yet. There's a lot of things that happen leading up to the draft and a lot of information gathered."
Burrow didn't expand further by what he meant by leverage. Although it certainly gives off the vibe that he doesn't want to play for the Bengals. His decision to stay on this path of leaving the door open despite Cincinnati making it quite evident that they want to take him has been puzzling.
However, there are dots to connect as Burrow has worked out with Carson Palmer's brother Jesse Palmer over the last several weeks. The eldest Palmer didn't exactly have the most gracious ending of his tenure with the franchise that led to him retiring at one point before being shipped to the Oakland Raiders.
Much can change over the coming months, but it's becoming quite clear that Burrow may not want to taken by the Bengals.