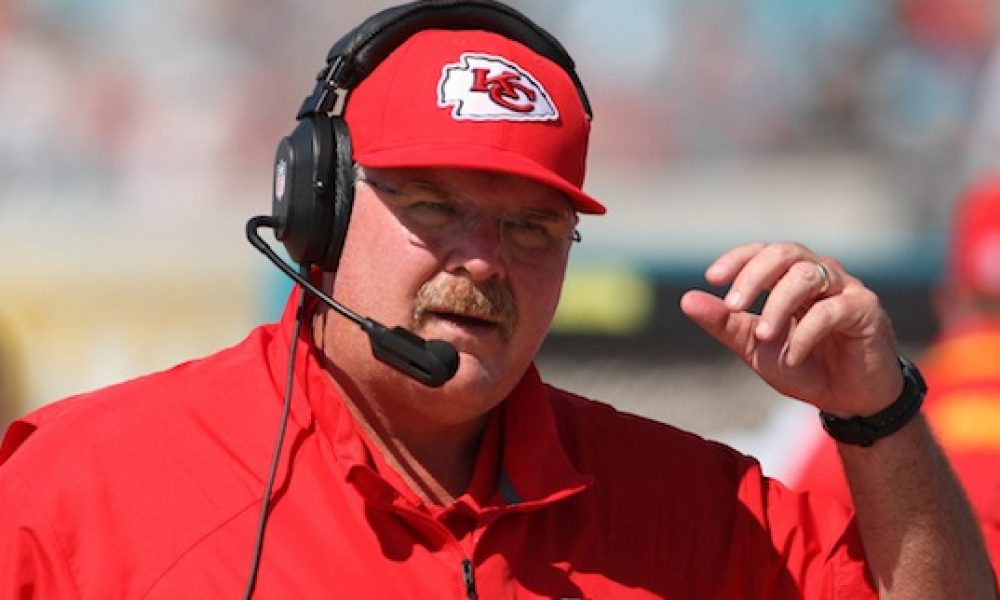 Sep 8, 2013; Jacksonville, FL, USA; Kansas City Chiefs head coach Andy Reid during the game against the Jacksonville Jaguars at EverBank Field. Mandatory Credit: Rob Foldy-USA TODAY Sports
NFL Week 4 2022: 5 best games to watch on Sunday
Looking at the NFL Week 4 schedule, these are the five best games to watch on Sunday, headlined by four great quarterbacks in two tilts.
5. Tennessee Titans at Indianapolis Colts (-3.5)
You might be shocked to see this game on the list, but think about it. Both the Titans and Colts are coming off wins, and the winner will either be 2-2 (Titans) or 2-1-1 (Colts) and suddenly be feeling good about itself in the very winnable AFC South. For Indianapolis, this is a chance to even its divisional record after tying the Houston Texans and losing to the Jacksonville Jaguars over the season's first two weeks. Whoever wins is back in business, while the loser is in trouble.
4. Denver Broncos at Las Vegas Raiders (-2.5)
The Raiders are 0-3 and at the point where they either win or fall off a cliff. Right now, Las Vegas is teetering on the edge, and leaning off to the side. The Broncos, meanwhile, are somehow 2-1 despite only scoring 43 total points. Russell Wilson and Nathaniel Hackett were supposed to be the new Denver power couple, but so far, there's been a serious outage. Can the Broncos finally break out, or do the Raiders save their season with a divisional win?
3. Jacksonville Jaguars at Philadelphia Eagles (-6.5)
Who would have thought this game was going to be a must-win event? Yet here we are, with the Eagles sitting as the league's only unbeaten team at 3-0, while the Jaguars are 2-1 after hammering the Colts and Los Angeles Chargers in the past two weeks. If Philadelphia wins, it could get off to a 9-0 or 10-0 start looking at its schedule. Meanwhile, a victory for Jacksonville would be a flagship win for head coach Doug Pederson's young team.
2. Kansas City Chiefs at Tampa Bay Buccaneers (-1)
Both the Chiefs and Buccaneers are Super Bowl contenders, and each is 2-1 coming off a loss. Tampa Bay fell 14-12 to the Green Bay Packers while missing Chris Godwin, Mike Evans and Julio Jones, who could all be back on Sunday night. Meanwhile, Kansas City blew a ridiculous 20-17 game in Indianapolis last week, and injuries weren't part of the problem. The question here is whether Tom Brady or Patrick Mahomes bounces back in a larger way against a top defense.
1. Buffalo Bills (-3) at Baltimore Ravens
Josh Allen and Lamar Jackson have been the two best quarterbacks in the league through three games, and now they clash with either the Bills or Ravens getting to 3-1 on the young campaign. We could see some serious fireworks in Charm City, with each offense capable of scoring 30+ points easily.