QB Ryan Fitzpatrick Impressing for Tampa Bay
By Connor Lynch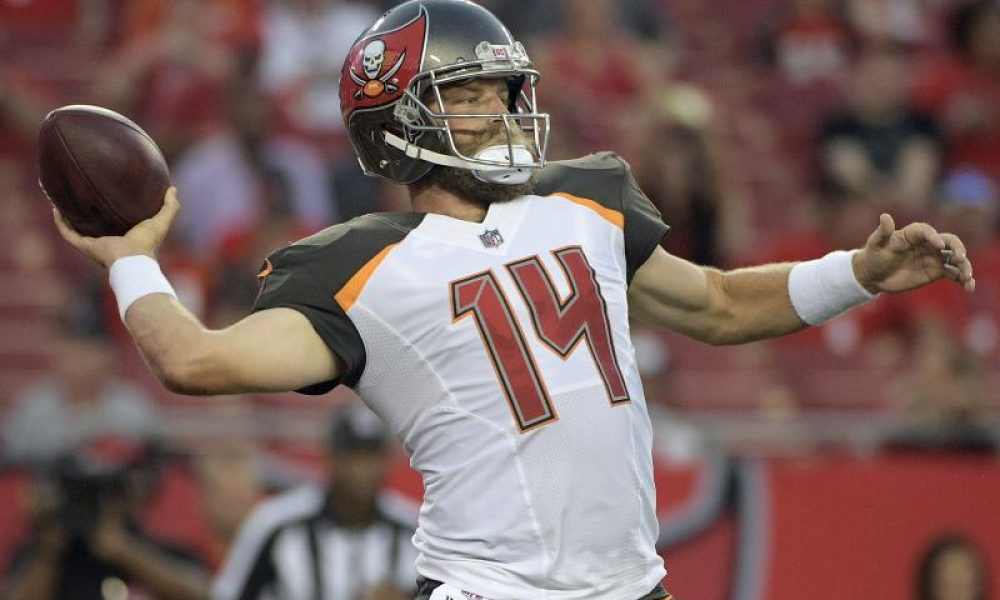 The Tampa Bay Buccaneers appear to have something of a quarterback conundrum on their hands. The battle between Ryan Fitzpatrick and Jameis Winston is turning out to be much more competitive than anyone thought.
Ryan Fitzpatrick, starting in the absence of Winston through suspension, has confounded expectations over the first two NFL games.
Ryan Fitzpatrick, who has been a journeyman, is playing the best football of his career. So much so that debate has arisen over whether Jameis Winston goes straight back into the team when he returns.
Winston, a former No. 1 pick, has one game left on a three game suspension for an alleged groping incident.
Want $250 to bet on the NFL?
Sign up now!
Tampa Bay coach Dirk Koetter refused to comment on the matter when speaking to reporters on Monday.
"I won't be the one getting into that," Koetter said.
"We'll worry about that when the time comes. Right now we're going to start working on Pittsburgh and that's all that matters right now. Everything else is in the future because it could all change just like that."
In his two games so far, Fitzpatrick has completed 78.7 percent of his passes for 819 yards. As well as that, he has eight touchdowns, one pick and a 151.5 passer rating. If Patrick Mahomes wasn't currently winning all the plaudits, Fitzpatrick might even be in the MVP conversation.
"I don't know what you want me to say," Koetter said. "The guy has played a lot of NFL football. He's putting the ball on the money, he's making good decisions. He's not turning the ball over."
Either way, we will find out in Week 4. Tampa Bay will play against the Chicago Bears, and one will miss out. Will it be their franchise quarterback on the bench, or one of the most in-form quarterbacks right now?