Sanchez has Edge in Broncos QB Race
By Jonathon Natsis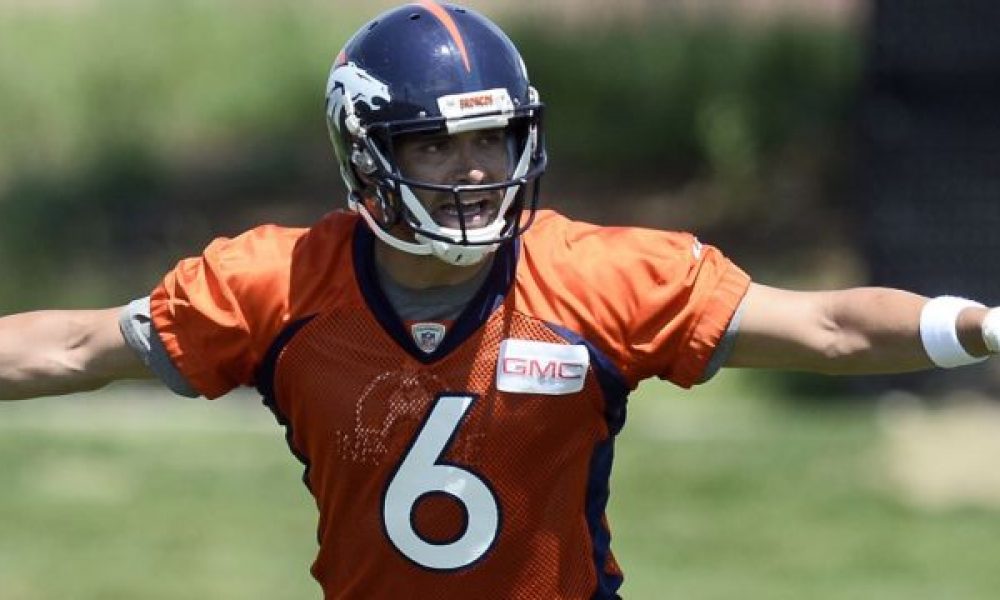 After losing Peyton Manning to retirement and Brock Osweiler to the highest bidder, the defending Super Bowl champion Denver Broncos are without a main man entering 2016. After making a couple of moves in free agency and the draft, the Broncos are still a ways away from settling on a starter, but it's being reported that Mark Sanchez is in the lead.
According to Denver beat writer Troy Renck, Sanchez has just a "slight edge" in proceedings, but conceded that while he originally thought it was Sanchez's job to lose, Renck now believes he must "win it in camp."
The Sanchize's competition will be first-round rookie, Paxton Lynch, and 2015 seventh-rounder Trevor Siemian. Before making a trade to move up and nab Lynch in April's draft, it was looking more than likely that Sanchez – a perceived system quarterback that pitched in on two conference championship appearances with the Jets – could be the face of Denver's back-to-back championship campaign.
A change of scenery didn't exactly help Sanchez rejuvenate his career in Philadelphia. He threw for 18 TDs and 15 picks through 13 games in relief across two seasons: apparently enough to warrant a trade to the desperate defending champs.
But slight edge as he may have, Sanchez is not the future in Denver. Broncos brass have repeatedly expressed their intentions to sit Lynch for his entire first season, but that doesn't count for much in the modern NFL. If Lynch can impress in training camp and continue to develop chemistry with his receivers through preseason, he will be the starting quarterback on a team not expecting him to play Superman en route to a successful season.
And while Siemian might not have shared the same limelight as his teammates on draft day, he has one advantage the other two do not share. He is the only rostered quarterback to have spent a year under coach Gary Kubiak's offense. But despite the experience, Siemian's career has been good for one solitary snap so far: a kneel down to end the half in Pittsburgh, as Osweiler retreated to the locker room for an injury evaluation.
Regardless of who gets the start on opening night against the Panthers, the game plan will be the same. Denver will look to run the ball, lean on its defense, and limit the quarterback's workload in what is being heralded by traditionalists as a return to old-school football. The results remain to be seen.