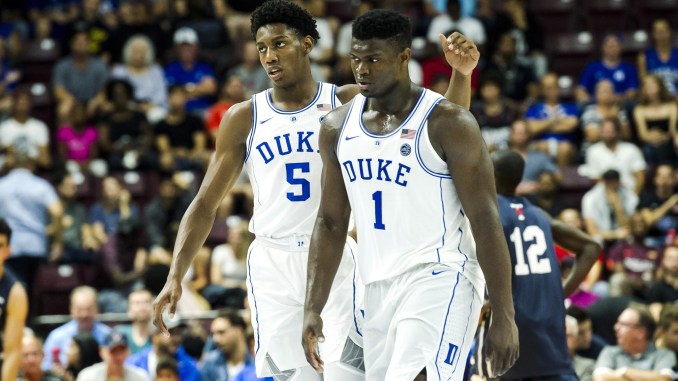 Way Too Early Final Four Odds
Way may be a long way from March Madness, but that does not mean it is too early to check out the Final Four Odds way ahead of time.
Final Four weekend is set for April but odds are already posted to bet on these future props.  Last season saw Villanova, Kansas, Michigan and the Cinderella story that was Loyola-Chicago. None of those teams with the exception of Kansas see themselves in the top spots of the odds.
Duke and Kentucky sit at the to of the odds followed by Kansas and Gonzaga in the top four of the Final Four odds.
You can see the full Final Four odds below, pulled from Bovada.
Duke 1/1
Kentucky 1/1
Kansas 7/5
Gonzaga 7/4
Nevada 3/1
Villanova 13/4
North Carolina 4/1
Virginia 9/2
Michigan State 5/1
Oregon 5/1
Tennessee 6/1
Michigan 7/1
UCLA 7/1
West Virginia 7/1
Indiana 8/1
Auburn 9/1
Florida 10/1
Wichita State 10/1
Purdue 12/1
Syracuse 12/1
Florida State 15/1
Kansas State 15/1
Texas Tech 15/1
Virginia Tech 15/1
Cincinnati 20/1
Clemson 20/1
LSU 20/1
Miami FL 20/1
NC State 20/1
Notre Dame 20/1
Ohio State 20/1
Texas 20/1
Texas A&M 20/1
Wisconsin 20/1
Alabama 25/1
Arizona 25/1
Arizona State 25/1
Arkansas 25/1
Baylor 25/1
Butler 25/1
Louisville 25/1
Marquette 25/1
Maryland 25/1
Mississippi State 25/1
Penn State 25/1
St Johns 25/1
TCU 25/1
Vanderbilt 25/1
Xavier 25/1
Houston 45/1
Iowa 45/1
Creighton 50/1
Georgetown 50/1
Illinois 50/1
Iowa State 50/1
Memphis 50/1
Minnesota 50/1
Missouri 50/1
Nebraska 50/1
Oklahoma 50/1
Providence 50/1
Rhode Island 50/1
SMU 50/1
San Diego State 50/1
Seton Hall 50/1
South Carolina 50/1
St Marys 50/1
USC 50/1
Utah 50/1
Washington 50/1
Central Florida 60/1
U Conn 60/1
Boise State 75/1
Boston College 75/1
Davidson 75/1
Georgia 75/1
Loyola Chicago 75/1
New Mexico 75/1
Northwestern 75/1
Oklahoma State 75/1
Oregon State 75/1
UNLV 75/1
Western Kentucky 75/1
Fresno State 100/1
BYU 125/1
Buffalo 125/1
Colorado 125/1
Georgia Tech 125/1
Harvard 125/1
Illinois State 125/1
Old Dominion 125/1
Ole Miss 125/1
Rutgers 125/1
St Josephs 125/1
St Louis 125/1
Stanford 125/1
Temple 125/1
Tulsa 125/1
Wake Forest 125/1
Charleston 200/1
Dayton 200/1
DePaul 200/1
Marshall 200/1
New Mexico State 200/1
Northern Iowa 200/1
Richmond 200/1
St Bonaventure 200/1
Utah State 200/1
VCU 200/1
Belmont 400/1
Bradley 400/1
Colorado State 400/1
Furman 400/1
Grand Canyon 400/1
LA Lafayette 400/1
La Salle 400/1
Middle Tennessee State 400/1
Missouri State 400/1
Montana 400/1
Northeastern 400/1
Pennsylvania 400/1
Southern Illinois 400/1
Toledo 400/1
Tulane 400/1
UAB 400/1
Valparaiso 400/1
Vermont 400/1
Western Michigan 400/1
Wright State 400/1
Albany 1000/1
Ball State 1000/1
Bucknell 1000/1
CS Fullerton 1000/1
California 1000/1
Central Michigan 1000/1
Cleveland State 1000/1
Duquesne 1000/1
East Tennessee State 1000/1
Eastern Michigan 1000/1
Evansville 1000/1
Florida Gulf Coast 1000/1
George Mason 1000/1
Georgia Southern 1000/1
Hawaii 1000/1
Illinois Chicago 1000/1
Indiana State 1000/1
Iona 1000/1
Jacksonville State 1000/1
Kent State 1000/1
Liberty 1000/1
Louisiana Tech 1000/1
Miami OH 1000/1
Milwaukee 1000/1
Monmouth 1000/1
NC Greensboro 1000/1
NC Wilmington 1000/1
North Dakota State 1000/1
North Texas 1000/1
Northern Kentucky 1000/1
Oakland 1000/1
Ohio 1000/1
Pittsburgh 1000/1
Portland 1000/1
Princeton 1000/1
Rider 1000/1
San Diego 1000/1
San Francisco 1000/1
Seattle 1000/1
South Dakota 1000/1
South Dakota State 1000/1
Southern Miss 1000/1
Texas Arlington 1000/1
Texas State 1000/1
South Alabama 1000/1
Towson 1000/1
U Mass 1000/1
UC Davis 1000/1
UC Irvine 1000/1
UCSB 1000/1
UMBC 1000/1
UTSA 1000/1
Utah Valley 1000/1
Washington State 1000/1
Weber State 1000/1
William and Mary 1000/1
Wofford 1000/1
Wyoming 1000/1
Yale 1000/1