Austin Watson Hat Trick Sinks the Anaheim Ducks
By Connor Lynch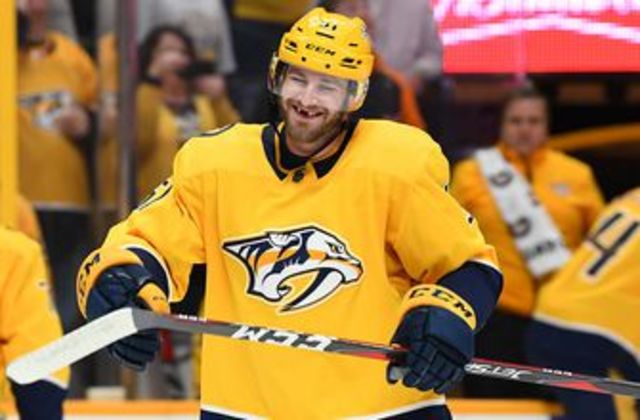 Austin Watson scored a hat trick as the Nashville Predators beat the Anaheim Ducks 5 – 2 on Sunday night.
Per ESPN, Austin Watson doesn't even remember the last time he scored a hat trick. "American Hockey League, maybe?" Watson said. "A couple of years now."
The 26 year old right wing in fact recorded his first hat trick in the NHL on Sunday night. Austin Watson is the fourth Predators player to score a hat trick this year, which is a franchise record. He entered the game with just one goal.
"It's always nice to score goals and contribute," he said.
"As hockey players, that's what we like to do."
Want $250 to bet on the NHL?
Watson doesn't usually play so far forward as he did on Sunday night. However, due to an injury to center Kyle Turris, he found himself playing more offensively.
His first goal came in the first period. Watson then added the first power-play goal of his career in the second. He completed his hat trick into an empty net with 1:06 remaining.
"To get an opportunity to play with (Ryan Johansen) and (Filip Forsberg), two really gifted hockey players, and then I was out there with (Colton Sissons) and (Nick Bonino), we had some good success," Watson said. "It was a fun night."
It was a surprisingly effective performance from Watson, who has missed the last 18 games. He sat out for such a long time as a result of an 18-game suspension for domestic violence. He only returned to action two weeks ago.
"I think it was just a matter of getting back on the ice and getting his timing back," Predators coach Peter Laviolette said. "He was in shape when he started, but there's something about the game and the way it moves and getting your game-timing down from moving the puck, reading the plays, reading the situations. So we've been giving him more opportunity with regard to ice time, penalty kill."