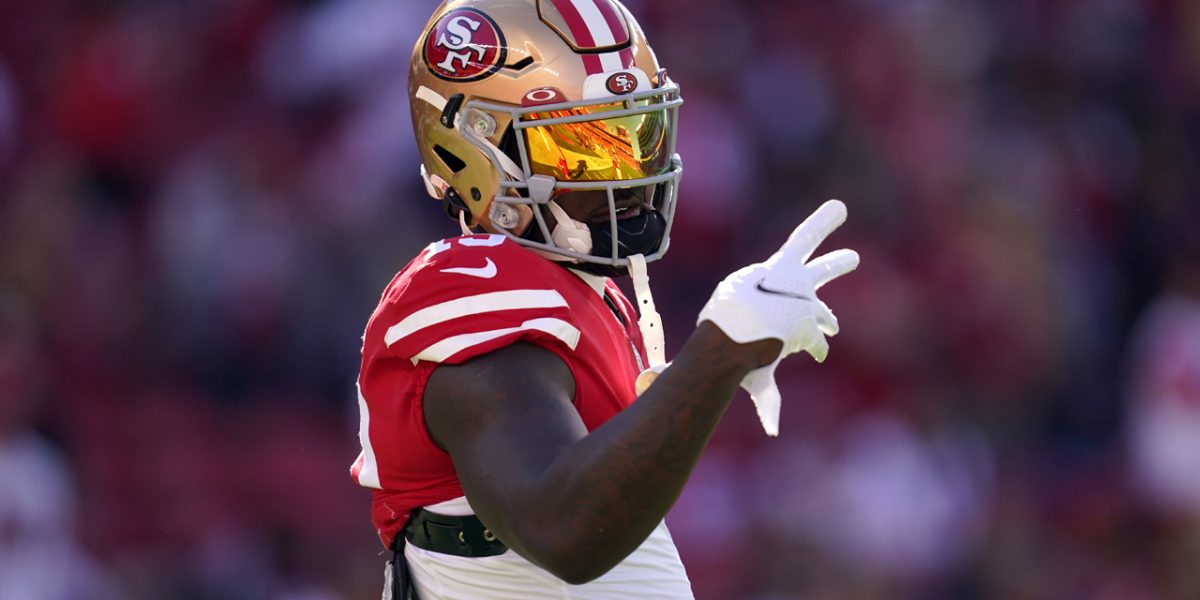 Deebo Samuel 'All The Things You Would Want In A Receiver'
San Francisco 49ers wide receiver Deebo Samuel feels back to his best after a poor 2022, and his teammates agree.
Deebo Samuel described his form last season as 'awful', and he was anything but during Thursday's win over the Giants.
Somewhat illustrative of this is the fact he went down injured on the field only to return seven plays later. Deebo Samuel had four catches of 18 + yards and produced his first 100-yard game since Week 4 of 2022.
Want $250 to bet on the NFL?
"I definitely agree [I'm not awful]," he said. "I'm in better shape, being able to sustain drives and be out there as long as I can without a sub.
"I try to get every yard possible as far as moving the chains and stuff," Samuel said. "It's just my mindset, I'm not going to just fall on the ground and allow one person to bring me down."
Running back Christian McCaffrey said Samuel's bombasic play is 'fun to watch' after the 49ers' 30 – 12 win.
"He has all the things you would want in a receiver," McCaffrey said. 
"He's fast, physical, can catch the ball, but I think it's the stuff he does when the ball is in his hands just being able to just refuse to go down. It's so fun to watch. Anytime he gets the ball, it's important you better continue to try to go find a block because you don't know what tackle he's going to break or how many."
After sealing the win with a 27-yard touchdown catch upon his return to the field, Samuel was acknowledged by his teammates as the difference-maker.
"Deebo. I think that's a big part of it," tight end George Kittle said. 
"He made some huge plays for us."