Jimmy Garoppolo On 'Unreal' Feeling Of Defeat
By Connor Lynch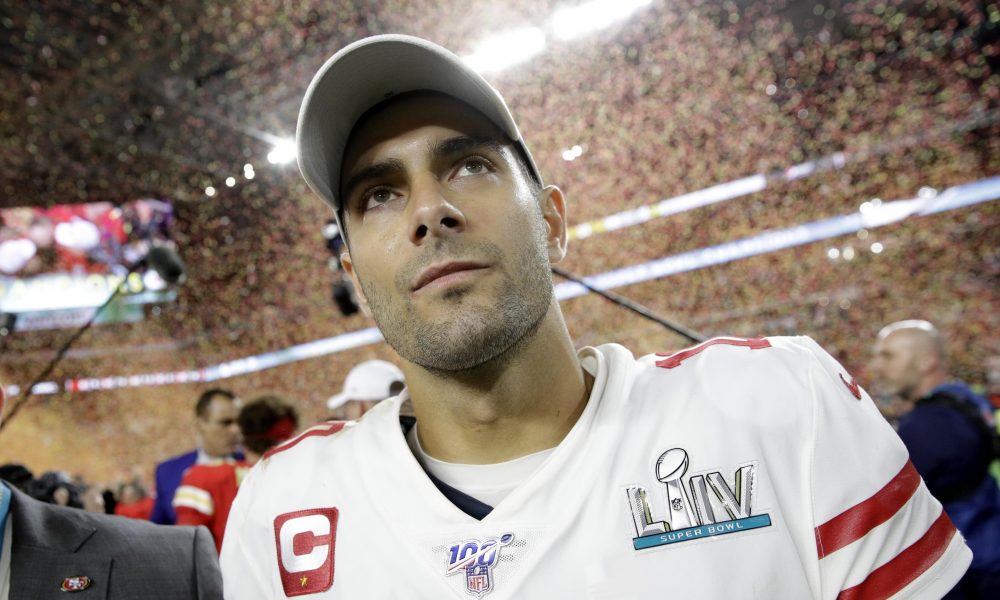 All of today's plaudits will be for Patrick Mahomes, but spare a thought for San Francisco 49ers signal-caller Jimmy Garoppolo. 
Jimmy Garoppolo was seven minutes away from lifting the Vince Lombardi trophy before Mahomes went into overdrive. The young star led the Kansas City Chiefs to a 31 – 20 comeback Super Bowl LIV win. In doing so, he became the second-youngest quarterback to win the Super Bowl, at 24 years and 138 days old.
He also denied Jimmy Garoppolo the chance of a Super Bowl victory that he could truly call his own. Garoppolo, of course, won two Super Bowls as Tom Brady's backup with the New England Patriots.
Since then, he was traded to the niners and suffered an ACL injury. San Francisco's run to the Super Bowl was his first full season as a starter.
Want $250 to bet on NFL futures?
After the game, Garoppolo was at a loss for positives to take from his comeback season.
"We just didn't make the plays when we had opportunities to," Garoppolo said. 
"It's a tough way to go down but it is what it is.
"Those are the moments you dream of and everything. We got off, we got rolling on a right note and just couldn't finish it off," Garoppolo said, "but it's been a hell of a year with these guys, everything we've been through from the very start, it's an incredible story.
"It's been wild. First full season as a starter, coming back from the ACL, it's a lot of things wrapped into one. So there are some positives," Garoppolo said. 
"At the end of the day, it's about wins and losses."
"The feeling of the locker room, it's an unreal feeling. It's something I've never felt before, I'm sure none of these guys have felt before," Garoppolo concluded. 
"The one positive you can take out of it is guys care about, guys care about each other, guys care about this organization. Lot of good came from this year. It's hard to look at it right now and see that good, but a couple days down the line maybe look back and look back on it a little bit."