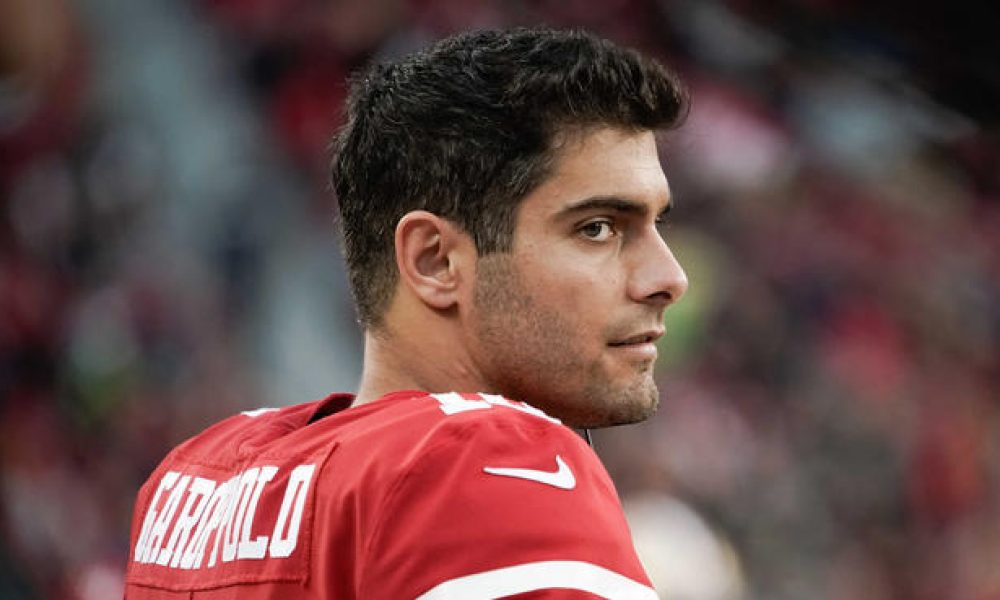 Nov 26, 2017; Santa Clara, CA, USA; San Francisco 49ers quarterback Jimmy Garoppolo (10) watches the game against the Seattle Seahawks during the fourth quarter at Levi's Stadium. Mandatory Credit: Stan Szeto-USA TODAY Sports
Jimmy Garoppolo: Playmakers Make My Job Easier
San Francisco quarterback Jimmy Garoppolo thinks the 49ers could have improved upon arguably their best game of the season.
Jimmy Garoppolo starred in Monday's 38-10 victory over the Arizona Cardinals on Monday Night Football. He threw four touchdown passes and finished with a QB rating of 131.9.
Jimmy Garoppolo was 20-of-29 for 228 yards and no interceptions. The signal caller says their third straight win was their best performance of the season so far.
Want $250 to bet on NFL Week 12?
He's not wrong, because several of his teammates showed up, too. TE George Kittle had two touchdowns on four catches for 84 yards, his best game of the season. Christian McCaffrey had 106 scrimmage yards. Deebo Samuel had seven catches and a 39-yard touchdown run to provide a memorable highlight.
Garoppolo hadn't thrown for four touchdowns in a game since late 2019. Postgame, he gave credit to his teammates rather than focus on himself.
"I feel good about all of it. I didn't even know that, the four TDs and everything," said Garoppolo.
"Guys were making plays all night though, just everyone was stepping up when their number was called. Guys stepped up and made plays, the O-line gave me a ton of time, which always makes things easier. It was a good night."
"When you have playmakers like we have, it allows you to do everything," Garoppolo said. "It's just a 'what's-the-defense-going-to-try-to-take-away' type of thing. If they try to take away the run we're going to throw it, if they try to take away the middle of the field we'll throw it outside. You know we've got a lot of playmakers on that offense, and it makes my job easy having them around.
"I think the past couple weeks we've been putting together some good games," Garoppolo said. "Today was probably our best full game we put together, but we've got a long way to go, there's some yardage we left out there and even some points we left out there, so it's a nice thing that guys are still hungry."