Jon Gruden Resigns Over Email Scandal
By Connor Lynch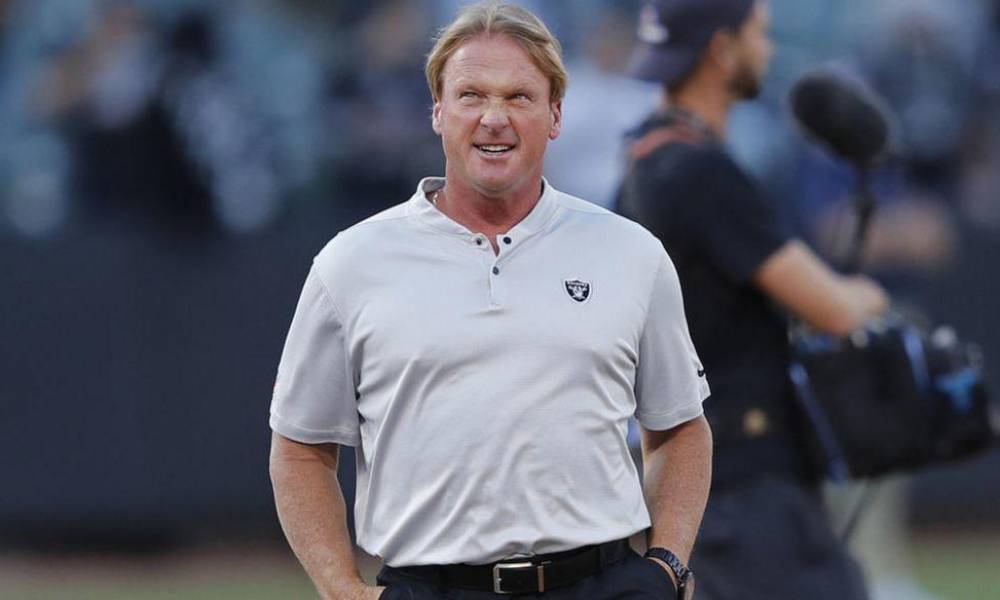 Jon Gruden has resigned as head coach of the Raiders after a series of inflammatory emails have come to light.
An NFL review into workplace misconduct in Washington led to a further investigation into Jon Gruden. In emails spanning a 10-year period, Gruden has shown a pattern of racist, homophobic and generally offensive language.
Las Vegas assistant coach Rich Bisaccia has been named as interim head coach. He will address the media on Wednesday.
"I love the Raiders and do not want to be a distraction," Gruden said in a statement Monday night. "Thank you to all the players, coaches, staff, and fans of Raider Nation. I'm sorry, I never meant to hurt anyone."
Want $250 to bet on NFL Week 6?
Jon Gruden has directed offensive language towards players, owners, the media and even NFL commissioner Roger Goodell. 
Most damning are the racist comments he made about NFLPA director DeMaurice Smith and the homophobic comments he made about former DE Michael Sam. Gruden was working as an ESPN analyst at the time he wrote the emails.
He criticized Goodell in an email  to then Rams coach Jeff Fisher, saying the commissioner should not have pressured him to draft 'queers', referring to Michael Sam. He followed up by using anti-gay language in reference to Goodell.
In emails to then Washington president Bruce Allen, Gruden used racist language to describe Smith. The exact words he used were 'he has lips the size of michelin tires'. 
"The comments are clearly repugnant under any circumstance," ESPN said in a statement.
"I'm ashamed I insulted De Smith. I never had a racial thought when I used it," Gruden told ESPN. "I'm embarrassed by what's out there. I certainly never meant for it to sound that bad."