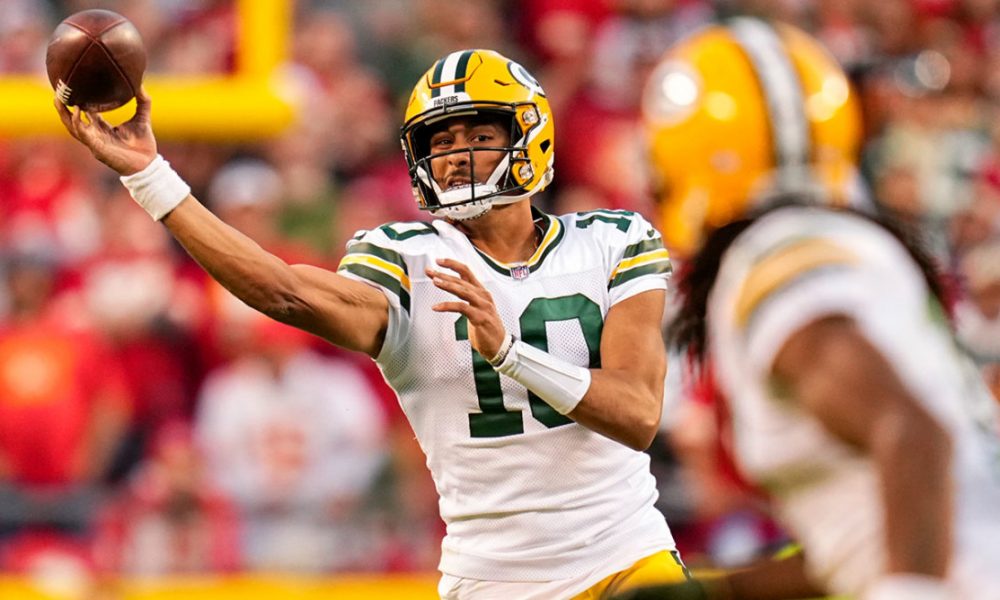 Jordan Love Backed By Packers GM Amid Rogers Chatter
The Green Bay Packers are satisfied that number two quarterback Jordan Love has the quality to produce for them.
In the midst of a lackluster 5-8 season, there's talk of Aaron Rodgers sitting down if the postseason slips away.
There's also talk of Rodgers departing next season, with the quarterback saying there needs to be 'mutual desire on both sides'.
The loss of Davante Adams, a new, inexperienced receiving corps and injuries have conspired against Rogers this season. 
Want $250 to bet on NFL Week 14?
Jordan Love got a start in Week 12 covering for Rogers. He completed 6-of-9 passes for 113 yards and a touchdown.
General manager Brian Gutekunst is confident Jordan Love is a good fit for them, although he thinks he still has learning to do.
"I mean, obviously, we've seen him for three years in practice and doing the things that he's doing," Gutekunst said. 
"There's a stretch here while Aaron has been banged up where he's had a lot of reps with the ones, which is great for him. I think it was great for us to see, but it was also really good for him in experience, you know, game planning each week. Quarterbacks got to get in to play a bunch of games before they learn how to win, but I do think we feel very confident that Jordan can move the ball, score points and do the things we ask of our quarterbacks."
"I think that's important, but all young quarterbacks go through a period in time where no matter what individual success, I think takes them a little bit of time to learn how to win in this league, and that's going to be important for Jordan (Love) whenever he gets his opportunity. That's a big part of it. I mean, learning within the game is very important for that development."