Kevin Durant Predicts Brooklyn Nets Will Get Even Better
By Connor Lynch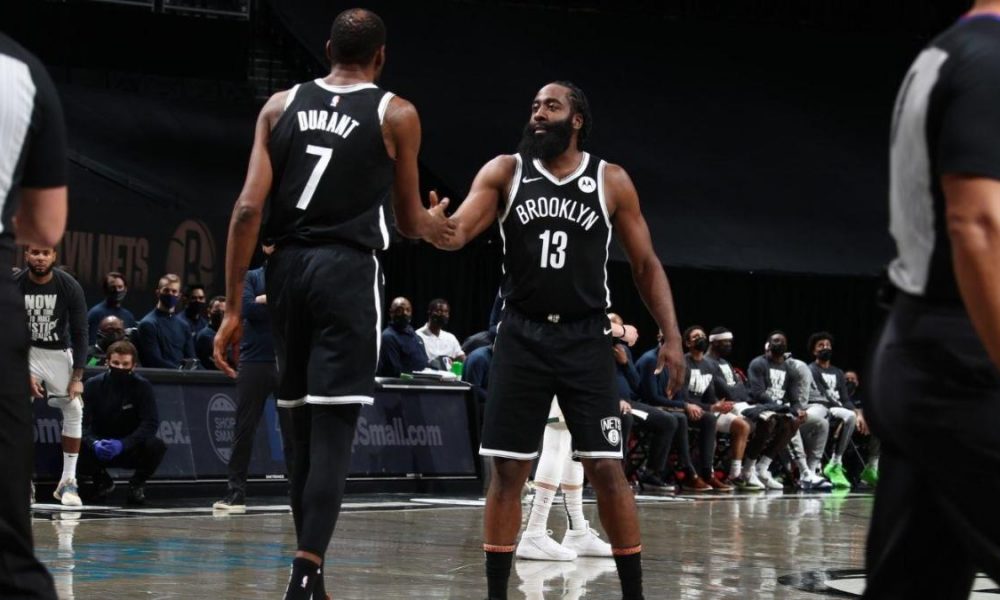 Reunited star duo Kevin Durant and James Harden are already making history as they combined for the Brooklyn Nets.
In James Harden's debut on Saturday, Kevin Durant scored 42 and Harden 32 for a combined 74 points.
In Brooklyn's 125 – 123 win over Milwaukee on Monday, Kevin Durant had 30 points and Harden had 34. They are the first pair to score 30 points each in their first two games with a team.
In an assertion that will strike fear into the rest of the league, Durant said they still have a lot to improve on. Scarier still is the fact that Kyrie Irving will be added to the mix soon.
Want $250 to bet on the NBA?
"We've been through a lot in this league," Durant said. 
"Experienced a lot, and for us to bring it together now and combine what we've learned over this time and try to play great basketball, I think it was pretty seamless for us.
"It was an easy transition, especially with James handling the ball a lot coming in. So we're still trying to find our way and we've still got room to improve, but it's a solid start."
With Harden still yet to have a full practice session with his new team, the old OKC partnership is something to fall back on. Their combined 138 points in their first two games is the second most in NBA history.
Wilt Chamberlain and York Larese combined for 151 in 1961. However, that was more due to Chamberlain's individual brilliance, as he scored 139 of those points.
After missing seven straight games, Kyrie Irving is expected to practice with the Nets again on Tuesday. A combination of injury, personal reasons and Covid-19 violations have kept him from playing with Harden and Durant. He has been fined close to $900,000 for his safety violations.
Irving could feature for the new look Nets in their upcoming road trip, a double header against the Cleveland Cavaliers.