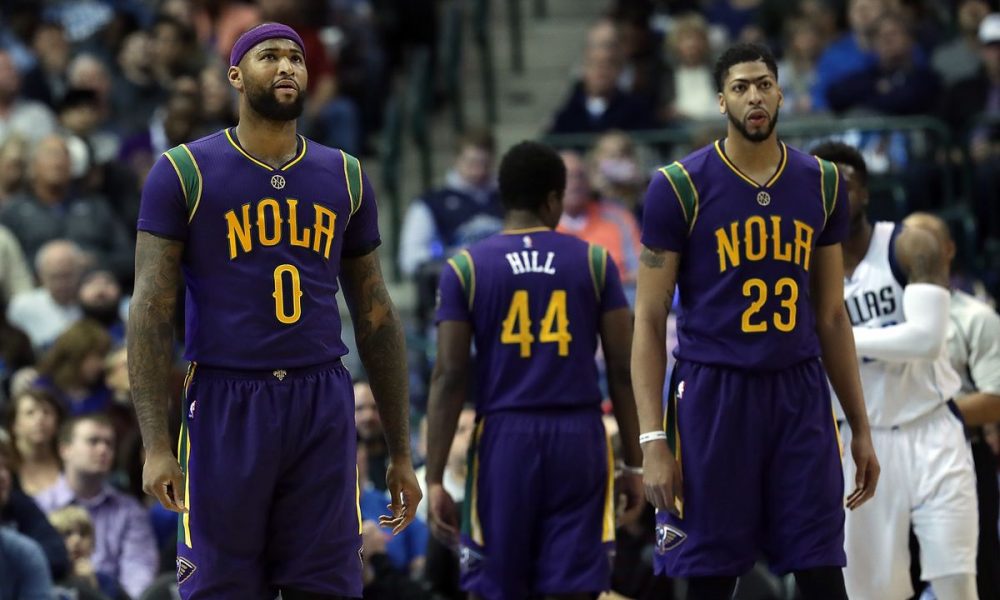 Anthony Davis says Pelicans would be NBA Finals bound if DeMarcus Cousins was healthy
The New Orleans Pelicans have arguably one of the most dynamic frontcourts in the NBA. The team already had one of the most versatile bigs in the league with Anthony Davis.. Then they acquired DeMarcus Cousins in a trade before the NBA trade deadline last year.
The two-headed monster in the paint was thought to be a game changer for the Pelicans as they try to compete in the Western Conference. Although it took some time, Davis and Cousins figured out how to play off one another. They were in the playoff hunt until the former Sacramento Kings superstar suffered a season-ending Achilles injury recently. Davis believes if Cousins didn't go down for the season, New Orleans would be a legitimate title contender, via ESPN.
"We could have gone through the playoffs. No one could really stop us as bigs. We go to the Finals if we went," Davis told ESPN's Rachel Nichols in an interview over All-Star weekend.

"[Teammate Rajon Rondo] reminds us of it: 'You guys are the two best bigs. I know what it takes to win championships; we got it.'"
NFL Free Agency
Currently, the Pelicans remain in the playoff hunt in the West as they try to hold onto the eighth spot in the conference. New Orleans has a record of 31-26 and are a half-game ahead of the L.A. Clippers.
Although the Pelicans may very well end up making the postseason, New Orleans has long odds to win the Western Conference title. The Golden State Warriors remain the favorites to advance to the NBA Finals for a fourth straight year followed by the Houston Rockets and Oklahoma City Thunder.
Along with losing Cousins for the rest of the season, the veteran center will enter free agency this summer. All signs seem to point to him staying in New Orleans, but only time will tell if he changes his mind and wants another change of scenery.