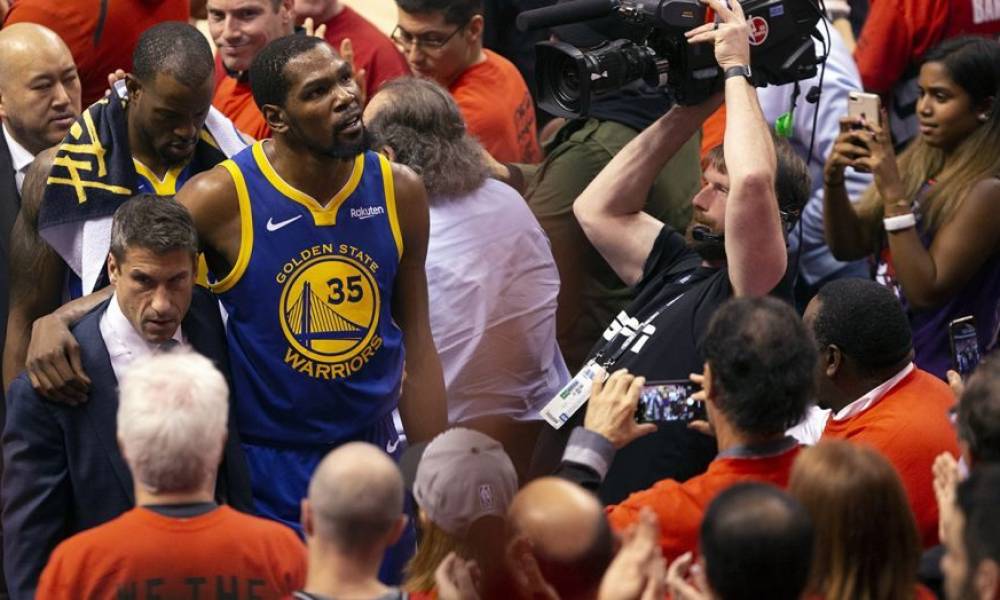 Warriors facing possibly losing Kevin Durant and Klay Thompson
Shortly after falling in the NBA Finals, the Golden State Warriors have shifted toward the upcoming offseason. This summer, they will have some prominent free agents.
At the top of the list are both Kevin Durant and Klay Thompson. Each are expected to head into the free agent market. With that in mind, Golden State will be making a strong effort to keep both with the team for the long haul, according to Nick Friedell of ESPN.
Want $250 to bet on NBA futures?
Sign up here!
"We're not doing any videos and tours of the city. Basically it's a 'We want you back and we hope you decide to come back and see what happens,' but we're at a different place now," Kerr said. "But any time you're trying to retain your own players, I think the song and dance, the pomp and circumstance is unnecessary and I actually think it's unnecessary even for other players. You just got to do what you got to do, but with our group it's just — conversation."
The feeling for the Warriors is that the team will give both max deals to remain with the franchise. Although they are both coming off huge injuries, Golden State's trust and belief in them hasn't wavered.
There has been some talk that Thompson may consider his options if the Warriors don't present him with a max contract offer. The LA Clippers could push their way into the picture as a potential landing spot.
Meanwhile, the torn Achilles injury to Durant could make a significant shift in his game plan for the offseason. The Warriors could foreseeably present him with a five-year max deal despite him coming off a potential career-changing ailment.
At the same time, the New York Knicks and Brooklyn Nets have both been discussed as potential landing spots for Durant to play alongside All-Star point guard Kyrie Irving.