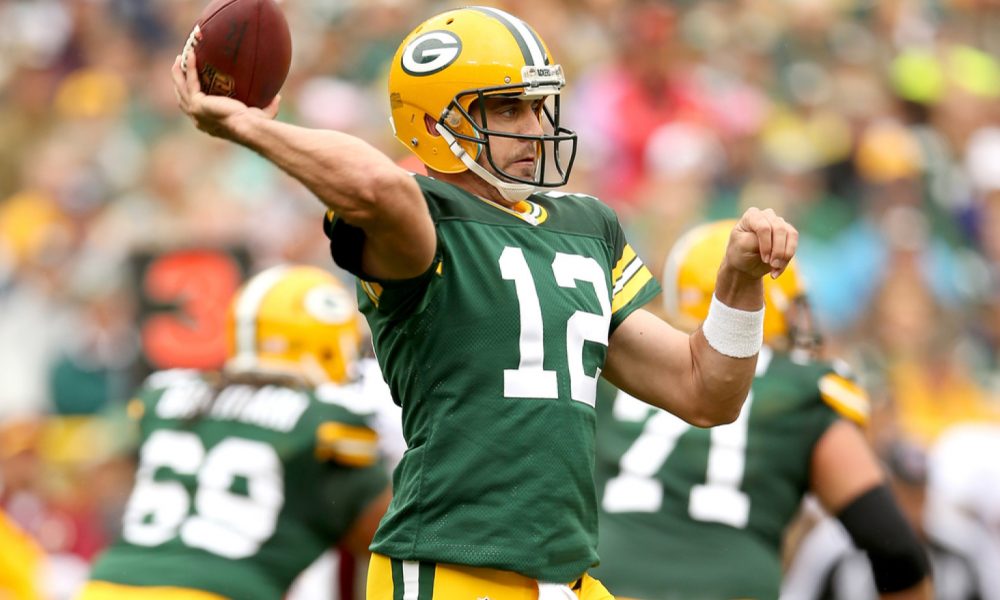 GREEN BAY, WI - SEPTEMBER 15: Aaron Rodgers #12 of the Green Bay Packers throws against the the Washington Redskins at Lambeau Field on September 15, 2013 in Green Bay, Wisconsin. (Photo by Matthew Stockman/Getty Images)
2022 NFL Schedule: 5 best games of the year
Now that the 2022 NFL Schedule has been released, let's look across the 18 weeks to determine the five best games of the year.
5. Baltimore Ravens at Cincinnati Bengals, Week 18
Two of the best teams in the AFC, this could mean plenty. It could either be for the top spot in the AFC North, some seeding, or a combination of the two. Baltimore was soundly beaten in both games against Cincinnati last year, with Bengals quarterback Joe Burrow throwing for more than 900 yards combined in the wins. Now, the Ravens are healthier after an offseason to recover from a staggering amount of injuries. Should be a fun tilt.
Want $250 to bet on games in the 2022 NFL schedule?
4. Los Angeles Rams at Green Bay Packers, Week 15 (MNF)
Now for two of the best in the NFC. These teams have met at Lambeau Field twice over the past two seasons, with Los Angeles being beaten in both affairs. This year, though, the Packers are trying to discover success without receiver Davante Adams, who was dealt to the Las Vegas Raiders for two draft choices. If Los Angeles is going to run it back and win consecutive Super Bowls, winning at Green Bay could be a huge step in securing home-field advantage.
3. Buffalo Bills at Los Angeles Rams, Week 1 (TNF)
The first game of the year, and one of the best. No, it doesn't have massive implications since it's Week 1 and the inter-conference nature means no tiebreaker talk either. Regardless, it's a contest between the defending champs and the odds-on favorite to win Super Bowl LVII. If the Bills win on the road against the Rams on a national stage, they're firmly announcing themselves as the team to beat.
2. Green Bay Packers at Tampa Bay Buccaneers, Week 3
How could this not be on the list. The last time these two teams hooked up, it was in the 2020 NFC Championship Game at Lambeau Field. Of course, the Buccaneers won that day before winning it all two weeks later, this despite Tom Brady throwing a trio of second-half interceptions. It's early, but it's a good test for both sides as the season begins to warm up.
1. Buffalo Bills at Kansas City Chiefs, Week 6
There's no other choice. This is the best rivalry in the NFL right now. In each of the past two seasons, these teams have met in both the regular and postseason, with the Chiefs winning three of four, including both playoff matchups at Arrowhead Stadium. If Buffalo is to finally break through and win its first Super Bowl, the Chiefs will need to be dealt with … perhaps twice.