49ers should wait for first rounder with Jimmy Garoppolo
By Matt Verderame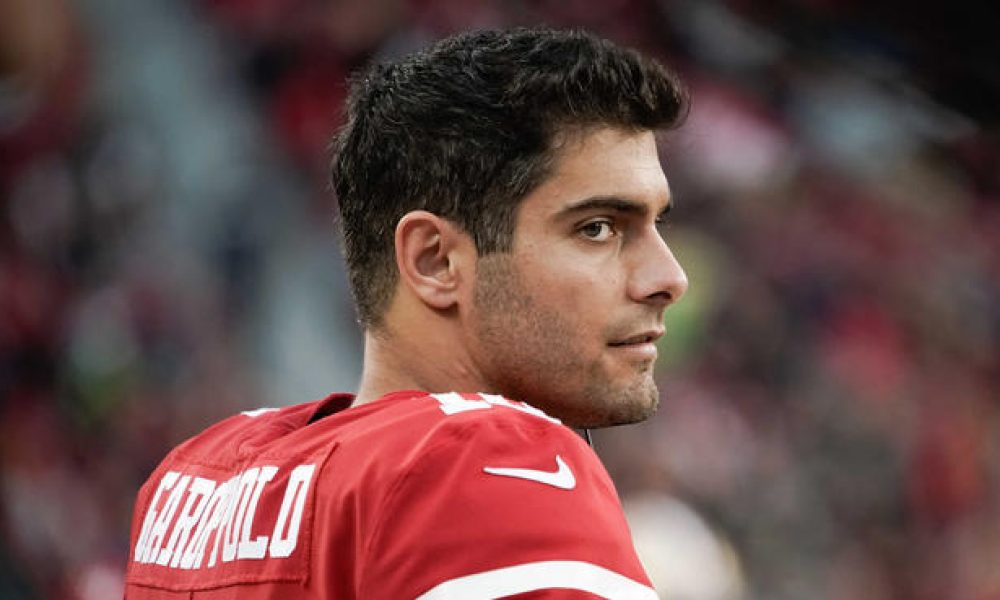 The San Francisco 49ers are going to eventually trade Jimmy Garoppolo, but for now, they should exercise patience and restraint.
If you want Jimmy Garoppolo, it's going to cost a first-round pick.
This should at least be the company line from the San Francisco 49ers. Although, the date of expiring leverage is rapidly approaching. Once April 29 comes and goes, the 49ers will have drafted Garoppolo's replacement, every first-round pick will have been used, and the situation vastly changes.
In the next few weeks, though, general manager John Lynch should maintain his stance. It's being reported the team wants a first-round pick in return for Garoppolo, who is coming off his second injury-plagued season in three years. However, the middle season of said span was a trip to the Super Bowl.
Want $250 to bet on NFL futures?
San Francisco also has the benefit of having watched this offseason. The Detroit Lions sent Matthew Stafford to the Los Angeles Rams for a pair of first-round picks and quarterback Jared Goff. Stafford is older than Garoppolo, has dealt with injuries the past two seasons and has never won a division title or playoff game.
Additionally, the Philadelphia Eagles coaxed a second-round and conditional first-round pick from the Indianapolis Colts for Carson Wentz, who is also oft-injured and was so bad in 2020, he was benched for rookie Jalen Hurts.
If you're Lynch, the price for Garoppolo absolutely starts with a first-round pick and likely includes another top-100 choice. Now, whether a team ends up offering said selections is unknown, but the 49ers would be crazy not to ask.
So which teams make the most sense? We have to start with the New England Patriots, who employed Garoppolo through his rookie deal and still have the same person in place — Bill Belichick — who drafted him. The Patriots don't ahem a long-term answer at quarterback, and Garoppolo would fit the bill.
Beyond them, the Washington Football Team would fit nicely. They have Ryan Fitzpatrick, Taylor Heinicke and Kyle Allen. Not exactly solid. If the defending NFC East champs landed Garoppolo, they'd be in great shape. Finally, the Denver Broncos could upgrade from Drew Lock and be real playoff contenders with Garoppolo at the helm.
At some point, perhaps the Niners come off their current asking price and decide the settle, but considering what has happened this offseason, history says San Francisco will get its wish.