Dak Prescott Wants to Always Play for the Dallas Cowboys
By David A.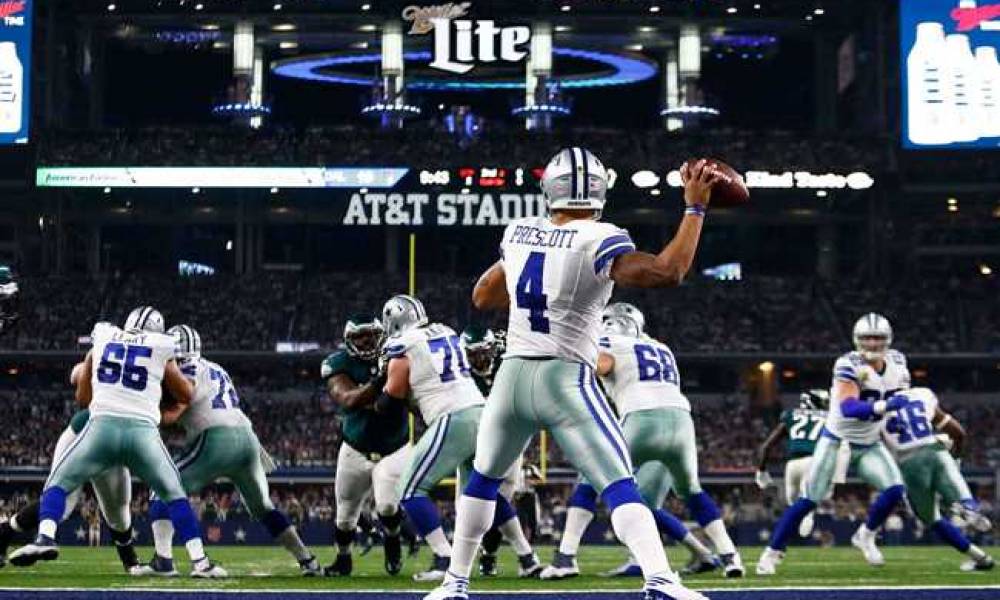 Dak Prescott let his intentions be known. The Dallas quarterback said on Wednesday night he wanted to be a member of the Cowboys forever. He added that he believes those involved with making his new deal feel the way he does. As a result, for Dak Prescott there is not rush he knows it will get completed.
Dak Prescott will earn $2.02 million during his final year of his rookie contract of four years. It's the deal he agreed to after being drafted by the Cowboys in 2016. Dallas took Prescott with a pick in the fourth round.
Want $250 to bet on NFL futures?
A week ago, executive vice president of the Cowboys Stephen Jones said that talks with agent's representing Prescott and wide out Amari Cooper were underway. As well as that, Jones indicated a deal for top rusher Ezekiel Elliott was also a possibility.
Dallas owner Jerry Jones has told the media before that keeping Prescott is a Cowboys' priority. Adding that he is aware it will end up being at a high price.
Seattle quarterback Russell Wilson signed a new contract extension recently for four years and $140 million. Prescott will likely sign a deal close to $30 million per year.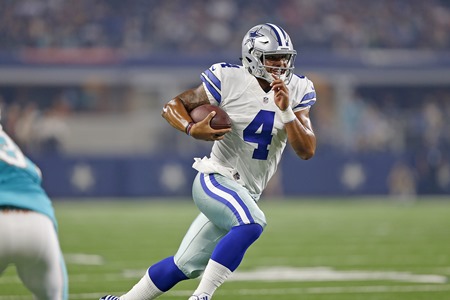 In April, DeMarcus Lawrence was signed to a five-year deal for $105 million by the Cowboys, with $65 million in guaranteed money and it is thought that Prescott's contract will exceed that of Lawrence's.
Since 2016, just Tom Brady has more wins than Prescott as an NFL quarterback. Prescott was the 2015 NFL Rookie of the Year after he taking over for the injured Tony Romo and tossing 23 TD passes and only four interceptions while leading Dallas to a 13-3 record that led the NFC.
Prescott has started every game during his career. Additionally, he is 32-16 with a pair of NFC East titles and two appearances in the postseason.
Prescott's threw 22 touchdowns passes in 2017 and 2018 while tossing just 13 interceptions during 2017 and only eight in 2018. The Cowboys signal caller is the only NFL quarterback in the history of the league to threw for 20 touchdowns or more and run for five or more in each of his first three regular seasons.