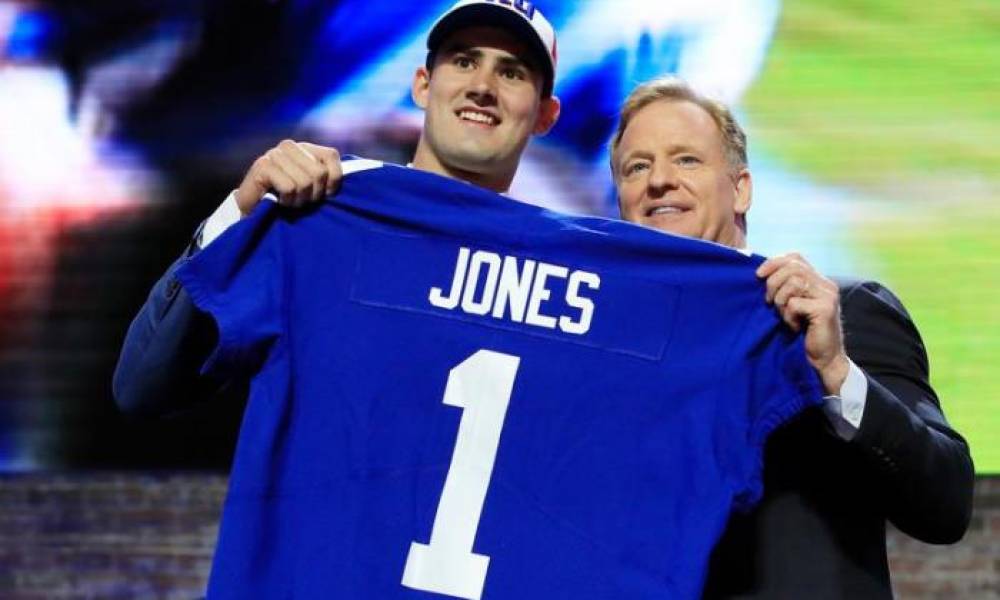 Daniel Jones has golden opportunity with Giants in 2022
Despite the struggles to this point, New York Giants quarterback Daniel Jones can flip the proverbial script in Gotham this season.
Daniel Jones has a chance. Not just a token opportunity before the new regime moves on, but a legitimate chance to rebuild his career without changing zip codes.
Jones enters his fourth season knowing his New York Giants are unsure about him, but still profess hope. After all, New York cleaned house this offseason, replenishing their most important positions with head coach Brian Daboll and general manager Joe Schoen.
In Daboll, Jones gets one of the league's brightest offensive minds, a man who helped turn Buffalo Bills quarterback Josh Allen from a middling player with great flashes of talent into an All-Pro.
Want $250 to bet on NFL futures?
Under Daboll, Jones will have a chance to flourish. In the draft, the Giants added a stud offensive tackle in Evan Neal out of Alabama, who will pair with former top-five pick Andrew Thomas on the edges. At the skill positions, New York has running back Saquon Barkley and receivers Kenny Golladay, Kadarius Toney, Sterling Shepard and Darius Slayton.
However, it must be now for Jones. This offseason, the Giants declined his fifth-year option. If Jones rapidly improves, he can either sign a long-term deal or get a lucrative franchise tag, rebuilding his value instantly. And from the sounds of it, Jones believes he can make it happen, per NFL.com:
"I'm certainly confident in myself. I'm confident in the team we have and the coaches and the system. There's a lot of reasons to be confident, I think, when you look at all those pieces. We've got to focus on what we're doing now. We can't focus on results in the season. That's a long way away."
Last year, the Giants struggled to another last-place finish in the sad NFC East, while Jones threw for 2,428 yards and 10 touchdowns against seven interceptions in 11 games.
For Jones to prove he belongs as the answer for the future, he'll need to stay healthy for the full season — something he has never done — throw for around 4,000 yards and finally hit 25+ touchdown passes. Currently, his high-water marks in those categories are 3,027 yards and 24 touchdowns, both figures coming in 2019 when Jones was a rookie.
The Giants are giving Jones another chance under better circumstances to showcase his talents. It's time to make it happen, or start looking at real estate outside of the Tri-State area.