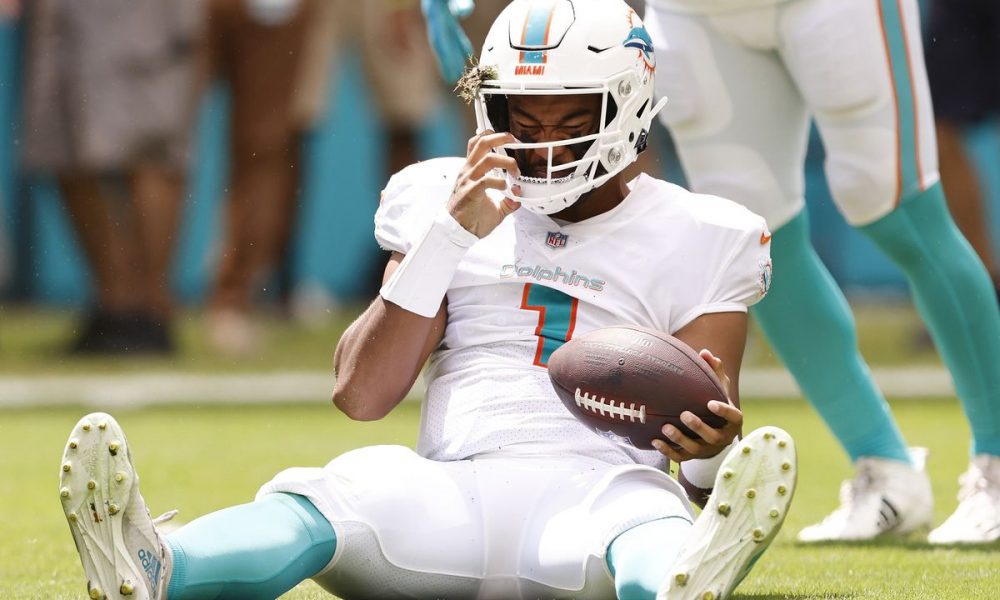 Dolphins officially rule out Tua Tagovailoa for Week 5
Since Miami Dolphins quarterback Tua Tagovailoa suffered a serious concussion against the Cincinnati Bengals, all eyes have been around the organization.
The Dolphins have moved forward methodically to handle the matter appropriately. The team has already ruled out Tagovailoa for Week 5 action against the New York Jets.
Head coach Mike McDaniels has voiced there is no exact timeline for the Alabama product's return. However the 24-year-old is progressing forward in his recovery.
"Right now he is in the building. He's had a couple good days, but he's just trying to go through with the proper procedure and protocol so that he's feeling 100 percent," McDaniel said via ESPN. "I know he's gonna be diligent with it. And if there's obviously any things that are giving him issues in terms of light and those things, then we will shut that down."
The Dolphins have all eyes on them on how they handle the matter, as the severity of his concussion against the Bengals was extremely frightening. It led the NFL Player's association to fire the unaffiliated neurotrauma consultant that was involved in checking Tagovailoa's concussion check.
Want $250 to bet on the NFL?
The NFL and NFLPA also agreed to adjust the concussion protocol to help prevent situations like that from arising again. The Dolphins want to bring along Tagovailoa at his pace to best allow him to move forward without any setbacks.
There are several steps that the team will go through first before considering a return date. Meanwhile, the team will proceed with veteran quarterback Teddy Bridgewater as the starter.