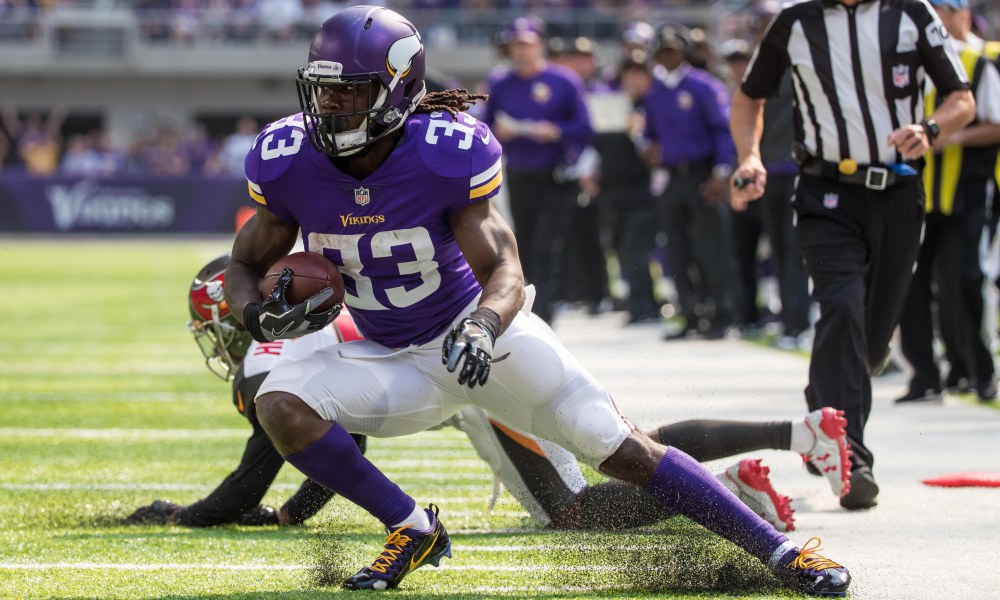 Sep 24, 2017; Minneapolis, MN, USA; Minnesota Vikings running back Dalvin Cook (33) carries the ball during the first quarter against the Tampa Bay Buccaneers at U.S. Bank Stadium. Mandatory Credit: Brace Hemmelgarn-USA TODAY Sports
NFL power rankings, Week 18: Vikings struggle badly
The NFL power rankings heading into Week 18 are here, and in this NFC version, the Minnesota Vikings fall down the list.
16. Arizona Cardinals (LW: 16)
The Cardinals are begging for the season to end. And after one more presumed loss to the 49ers, it mercifully will.
15. Chicago Bears (LW: 15)
Chicago is going to play without Justin Fields this weekend, giving the Vikings an easy win to go into the playoffs from.
14. Los Angeles Rams (LW: 13)
The Rams are going through the worst Super Bowl defense in NFL history. After this upcoming game against Seattle, Los Angeles can finally turn the page.
13. Atlanta Falcons (LW: 14)
Atlanta is trying to find out what it has in Desmond Ridder. The Falcons will get one final look at its rookie quarterback this Sunday against Tampa Bay's reserves.
12. Carolina Panthers (LW: 12)
The Panthers gave Tampa Bay a real fight on Sunday, but they couldn't get the job done against Tom Brady and Co.
11. Washington Commanders (LW: 8)
Washington is going to rue the decision of starting Carson Wentz against the Cleveland Browns, who immediately threw three interceptions.
10. New Orleans Saints (LW: 11)
New Orleans is now 8-8 after handling the Gardner Minshew-led Philadelphia Eagles. The Saints were eliminated from the playoff picture, however.
10. Tampa Bay Buccaneers (LW: 10)
The Buccaneers have had an awful season, but they found a way to make the playoffs. It's a new season starting next week.
9. Seattle Seahawks (LW: 9)
Seattle did the job against the New York Jets, keeping hope alive. Now, the Seahawks must beat the Rams and hope.
7. Detroit Lions (LW: 7)
The Lions are hoping the Rams beat the Seahawks earlier on Sunday, and then they get a chance to handle the Packers with a playoff spot on the line.
6. Minnesota Vikings (LW: 4)
Minnesota went into Green Bay and didn't give a competitive effort for every one quarter. It was ugly, and it makes you wonder what the future holds for the Vikings.
5. Green Bay Packers (LW: 6)
Green Bay has won four straight, and now heads into Sunday night knowing a win over the Lions puts it into the playoffs. Beware the Pack.
4. New York Giants (LW: 5)
The Giants hammered the Indianapolis Colts to earn an NFC wild card berth. The defense is solid and the offense can threaten you on the ground.
3. Dallas Cowboys (LW: 3)
The Cowboys know they're about the be the fifth seed — and a very dangerous one at that — barring a miracle on Sunday.
2. Philadelphia Eagles (LW: 1)
Even with two straight defeats, the Eagles are going to claim the top seed.
1. San Francisco 49ers (LW: 2)
Nine straight wins for the Niners. They're playing great offensively, and save last week, are the league's best defensive team.